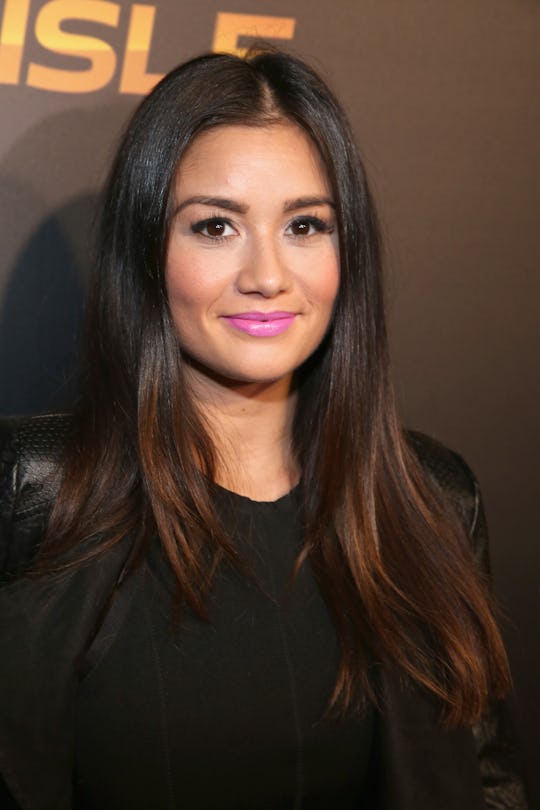 Jonathan Leibson/Getty Images Entertainment/Getty Images
Catherine Giudici's Breastfeeding Instagram Gets Hilariously Real
Breastfeeding is no joke and that's why pictures like the one in Catherine Giudici's recent breastfeeding Instagram post are so perfectly perfect. Because she is joking about it, sincerely, and that's what everyone, new mom or not, needs to see. On Wednesday, The Bachelor winner who married Sean Lowe in season 17, posted a picture in a grey top with a very noticeable bit of leakage. Giudici coupled the post with a simple caption: "Oops." The perfect response to life with a newborn, in my opinion.
"The struggle is real," she added, in a caption on top of the post itself.
Of course, no breastfeeding mother should ever feel ashamed about a little leakage and humor always helps. That kind of lighthearted reaction follows the same vein as model and new mom Chrissy Teigen's hilarious social media posts; Previously, Teigen has tweeted about her breastfeeding misadventures and even went as far to star in the music video for "M.I.L.F." by Fergie, breastfeeding the whole time. Even as a non-mother, it's awesome to see women celebrating the glory and the pain-in-the-butt aspects of being a new mom. It's real AF.
Giudici, in fact, would probably fit right in with that badass M.I.L.F. squad. She's been doing and loving the whole new mom thing for a little while now. The reality star married Lowe in 2014 after the cameras were turned off and when she first became pregnant, she immediately took to joking about it. This past winter, Giudici posted a pic of Lowe kissing her baby bump while she lounged and captioned it, "This relationship seems one sided so far."
Much like other celeb moms, like Teigen and even Kim Kardashian, it's super refreshing to hear a woman simultaneously love her baby and hate her pregnancy and everything that comes with it. (Like breastfeeding leaks.) It's relatable and humorous at the same time.
It's also great to see a couple really survive after a stint on The Bachelor. For a long time, Lowe was scrambling to make it work between the two of them and get the foundations right to build a proper family. "As soon as the first episode aired, I was thrust into fame. Each week, millions of people tuned in to see if I'd find the love of my life. I did in fact find love with a beautiful girl named Catherine," Lowe told Us Weekly. "
"We've been married two years now and are expecting our first child this summer. When the show ended, I realized the financial potential of that whole wacky experience … Fame pays, but, I knew it'd be short-lived. If I could save every penny, I could parlay it into long-lasting success back home in Dallas," he said.
But even if it was hard to get into the groove of a life lived off the cameras, it seems like the couple is making it work. And anyone who has to guts to post a selfie to Instagram with a little leak? That's the kind of sense of humor any new parent can appreciate. (Btw, check out Romper's Instagram here).