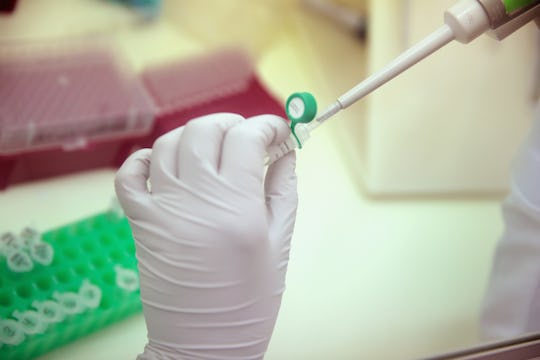 Scott Olson/Getty Images News/Getty Images
CDC Updates Zika Testing Recommendations For Pregnant Women
Although the Zika virus outbreak has faded away from headlines, public health officials are still working tirelessly to understand its connection to a devastating neurological birth disorder — microcephaly — that causes babies to be born with abnormally small heads. Over the past year doctors have developed ways to test for a Zika infection, but getting an accurate diagnosis has not been as easy as something like a strep test because there are still so many unknowns about the mosquito-transmitted disease. That being the case, the Centers for Disease Control and Prevention (CDC) has updated its Zika testing recommendations for pregnant women, according to a new health advisory issued on Friday.
Previously, the CDC had advised that pregnant women with no symptoms of a Zika infection — but could have been infected by either traveling or living in an area where Zika is a known risk, or from a sex partner who was exposed to it — should be tested twice at pre-natal doctor visits: once in the first trimester of pregnancy and again in the second, which starts at week 13.
Now, the CDC recommends that women who want to get pregnant and may have been exposed to the virus should also have their blood tested for Zika before they get pregnant. According to STAT, a health-oriented news website, this extra round of testing could help doctors and researchers have "a baseline reading" that "would help to interpret Zika tests done during a later pregnancy."
Why the change? Because new data suggest that results from the test — called Immunoglobulin M, or IgM — can not determine whether a pregnant woman was infected with Zika before or after conception as it's possible that antibodies can linger in the body for months for some people. This is incredibly important because knowing how recent the infection is can help doctors advise their patients more accurately, although these tests may not always be conclusive.
At the moment, the CDC says that if an infection occurred before conception — and expectant parents wait at least 8 weeks after the last possible exposure or after symptoms start before trying to get pregnant — poses no risk to the fetus. However, if it happened during pregnancy, then it can spread to a pregnant woman's fetus.
Additionally, the CDC recommends the following guidance for asymptomatic pregnant women living or frequently traveling to areas exposed to Zika:
If they or their sexual partners experience symptoms at any point during pregnancy, promptly see a doctor for nucleic acid testing (NAT), a blood test, in addition to the IgM test.
Speak with your doctor about having the NAT test done once each trimester, unless a previous one was positive.
Consider also testing obtained during amniocentesis for a Zika infection in addition to the other reasons the procedure was performed.
The CDC also advises that there are still limitations to Zika testing and any results before pregnancy should not be used to determine if it is safe for a woman to become pregnant. Rather, according to the CDC, "testing before pregnancy can help determine whether a woman becomes infected during pregnancy."
Nothing has been easy about Zika. But as more research and evidence come to light, we will hopefully see fewer complications when tackling this ongoing public health crisis