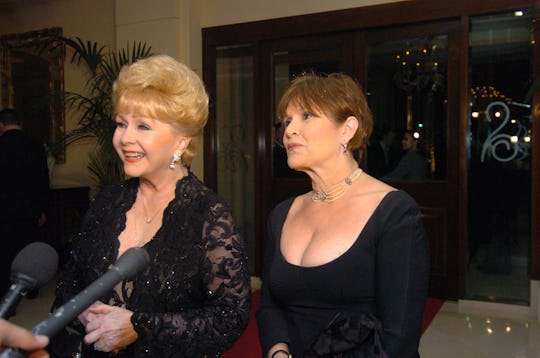 Handout/Getty Images Entertainment/Getty Images
Celebs React To Debbie Reynolds' Passing
Dealing with the death of a family member can be heartbreaking, but dealing with the death of multiple family members is almost too difficult to bear. But, unfortunately, that's exactly what Billie Lourd is going through right now. Because not only has she lost her mother, the legendary Carrie Fisher, but now her grandmother, the iconic Debbie Reynolds has passed away as well, TMZ reported, just a day after her own daughter's death. The actress was rushed to the hospital earlier on Wednesday, Dec. 28 after someone dialed 911, stating that she had suffered from a possible stroke. And it seems as though Reynolds, who was 84 years old, was unable to recover. So, of course, it didn't take long for celebs to react to Debbie Reynolds' death. In fact, before you knew it, Twitter was flooded with Hollywood's finest, sending out love and messages to Reynolds' family during this trying time.
Reynolds quickly skyrocketed to fame decades ago, thanks to her memorable role in the popular film Singin' in the Rain and as they say in this little business we call show, the rest was pretty much history. The Hollywood stars has continued to appear in countless projects throughout the years, creating iconic characters you couldn't help but fall in love with. Fans couldn't get enough of Reynolds and her magnificent talent, so it comes as no surprise to know that the same could be said for her fellow colleagues, whose messages and prayers proved just how much she was truly loved and cherished.
The actress had a very complicated relationship with her daughter, Fisher, throughout the years. In fact, their relationship was the main focus of Fisher's book, Postcards from the Edge, which later became a movie, starring Shirley MacLaine and Meryl Streep, that went by the very same name. However, despite their ups and downs, the two of them were in a really great place by the end. And just in case you need more heartbreak to go with this latest news, Reynolds' son, Todd Fisher, had told TMZ her final few words before succumbing to her stroke, which were, "I miss her so much, I want to be with Carrie."
More and more messages of love will continue to pour out as the evening progresses, but this is just one small taste of how beloved Reynolds truly was, proving that while she may be gone from this world, she won't soon be forgotten.