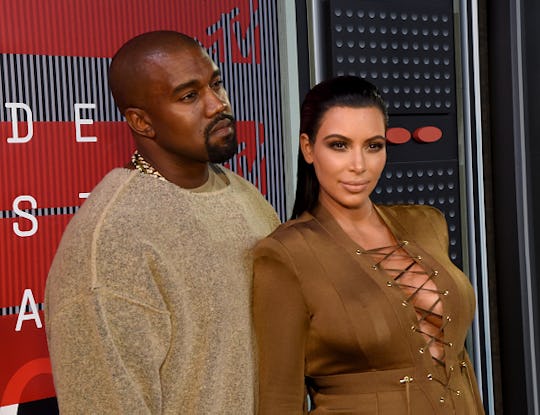 Celebrities React To Kim Kardashian And Kanye West's Son & The Tweets Are Adorable
It looks like Christmas has come early for the Kardashian-West family. Early on Dec. 8, Kim Kardashian gave birth to her second baby — a boy whose name has yet to be share with the world. Though details of the baby's birth have yet to be revealed (I mean, come on filks, it did just happen) Kim took to her website to share that she and the baby boy are doing just fine. Of course, with the new baby's arrival comes an outpouring of support on social media, especially from Kim and Kanye's A-list friend.
And KimYe could definitely use the support. Following a difficult first pregnancy, which gave the world North West, Kim took extra precautions this time around. "With the issues I had last time, my risk of having preeclampsia and placenta accreta are increased," she wrote on her blog. "There's not a whole lot I can do to prevent it, so my anxiety is a little high leading up to my delivery." As an extra safety measure, Kim had scheduled a C-section — on Christmas Day no less — to ensure her son would arrive into the world safely.
But the best-laid plans are the ones that go arry. In late November, Kim revealed her baby was breech, which then required a painful procedure known as an external cephalic version to turn the baby to a head-down position. Thankfully, Kim's version went well, and she was on her way to a healthy delivery.
Which brings us to today — the day KimYe added another baby to their beautiful family and North West was gifted a sibling. Given the couple's status in Hollywood, it's no surprise that their fellow famous friends took to social media to share in the joyous occasion. Of course, being that it's still early in Los Angeles, some celebs are probably just waking up to hear the news. But we're sure the outpouring of love and support will arrive later today.