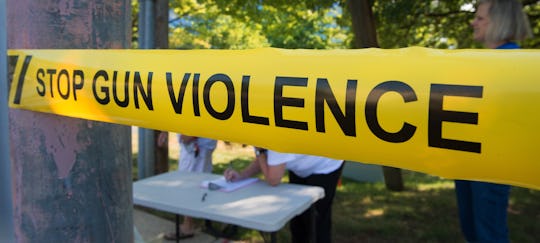 PAUL J. RICHARDS/AFP/Getty Images
Celebrity Reactions To The UCLA Shooting Show They Want Gun Violence To End
When two men were killed on Wednesday morning at UCLA, the campus was put on lockdown. Information was trickling in slowly, as it usually does in these situations. While the country waits to find out more, celebrities reacted to the UCLA shooting, and they weren't reserved about their opinions.
On Wednesday afternoon, students were told to stay sheltered in place, (in some cases barricading themselves in classrooms with chairs against the doors) and access to the campus was off limits. During a press conference in the afternoon, LAPD Chief Charlie Beck confirmed that the shooting was an unfortunate murder-suicide situation. The bodies of two men were found in the engineering department. Since the bodies were found, Beck told reporters at a press conference that the police have lifted the campus lockdown. "The campus is now safe. The issue that occurred has been contained." No information has been released about the two victims, although Beck did say there may have been a suicide note. "Many, many questions are unanswered at this point."
Despite the lack of information, many celebrities took to social media to show their support for UCLA, the Los Angeles Police Department, and to condemn gun violence.
Again and again, celebrities like Chloe Grace Moretz took to social media to vent their frustration at the news of yet another story of gun violence.
Gabrielle Union, a UCLA graduate, offered simple support to her alma mater.
Snoop Dogg, whose son attends UCLA, was understandably anxious to see the end of the conflict.
Now that the lockdown has been lifted and the school once again deemed safe, celebrities like Ellen Degeneres breathed an (online) sigh of relief.
It will be a strange day today at UCLA. Classes have been canceled, and questions still need to be answered. While there is no longer any risk of further incident, people are left wondering what happened in that engineering classroom. Who were these two men, and what was their relationship?
But perhaps one of the most important questions was highlighted by the celebrities who took to Twitter as events unfolded. When exactly is enough going to be enough? How many more "live shootings" does there need to be until we put a stop to the senseless gun violence? Hopefully action on gun violence prevention will happen before Twitter is yet again filled with calls for prayers.