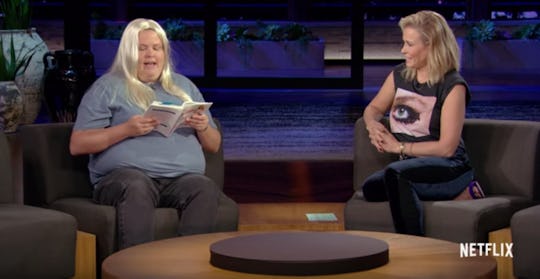 Chelsea Handler Criticizes Ann Coulter For Canceling On Her & She Doesn't Hold Back
Things got real on Chelsea, Chelsea Handler's talk show, after a guest had to cancel her appearance last minute. And if we learn anything from Ann Coulter's canceled Chelsea appearance, it is that if you're going to bail on the late night comedian, do so strategically. Chelsea has a lot of friends and a lot of brainpower to come up with a clever bite back when left without a guest.
On Thursday, the clever host set up an interview with the writer's "body double" on Netflix's Chelsea after her guest, Coulter, was a no-show. In her defense, Handler reported that the show received an email that the planned guest was "sick" and wouldn't be able to make the appearance. While it is fair to understand Handler's frustration in the last minute cancellation, illnesses do happen, so maybe we should give Coulter a bit of a break? Then again, if we did, Handler's backup plan would have never happened.
This election season Handler attempted to quiet audience's biased accusations by booking "one of the most vocal Trump supporters in the country," a.k.a. Ann Coulter, on her show. Coulter was scheduled to discuss her book In Trump We Trust. But after canceling at the last second on Sept. 28, she gave Handler the opportunity to publicly rip the book to shreds with a smile
On her Thursday show, Handler enlisted comedian and The Mindy Project actress Fortune Feimster, to play Coulter in a fake interview where the host called the conservative out with some aggressive choice words. To be blunt, Handler described Coulter's book as a "piece of sh-t."
"You know how seriously I take this job? I was up at 5 a.m. this morning reading this piece of garbage," Handler begrudged. I can't blame her for being so salty, I'd be angry too if I rose up before the sun, only to be stood up.
During the interview, Feimster wears a blonde, Party City-like wig while Chelsea sat across from her wearing a shirt with a giant eyeball. That shirt almost threw more shade at Coulter than Handler's dirty words. Almost.
It is important to note that while the quotes supposedly from Coulter's book are incredibly right-winged in the clip, they're actually just statements Coulter has said throughout her career, according to Us Weekly.
Although Coulter hasn't spoken out regarding the segment yet, Us Weekly reports that Coulter is seemingly OK with being the butt of the jokes when it comes to Handler, saying at the Comedy Central Roast of Rob Lowe, "I think she's hilarious... She can roast me. It will be funny."
Along with effectively dragging Coulter through the mud, the sketch sends a clear warning to future Chelsea guests: Don't get sick. And if you do, show up.