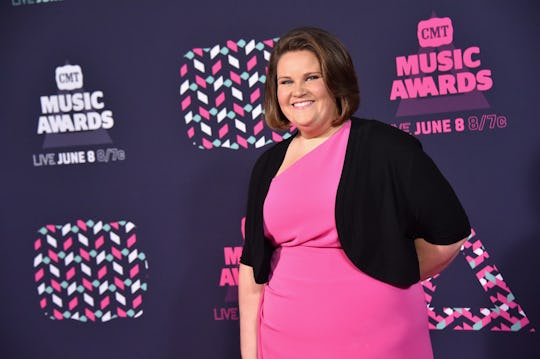 Mike Coppola/Getty Images Entertainment/Getty Images
Chewbacca Mom Sings 'Heal The World' On Facebook & It's Just What The World Needs
Candace Payne, perhaps better known as Chewbacca Mom, brought joy and laughter to the world last month after posting a video of herself laughing hysterically after she put on a toy Chewbacca mask she originally bought for her son. The Texas mom had millions smiling with her in the viral video of her in the silly Star Wars mask and her joyful antics are back again. Following the recent shootings across the United States, Chewbacca Mom sang Michael Jackson's "Heal The World" on Facebook Live in honor of the lives lost this week and as an inspiration for peace around the world. If the message behind the video wasn't touching enough, it turns out she also has a beautiful voice.
"I'm not that far Dallas," Payne begins the Facebook Live video. "[But] I'm hundreds of miles, thousands of miles, from really identifying with every single ounce of pain that I know is being felt by the whole world right now, literally the whole world."
In the video, Payne says she lives in Grand Prairie, which is just 30 minutes outside of Dallas, where five police officers were fatally shot as people were peacefully protesting the two most recent killings of black men — Alton Sterling in Baton Rouge and Philando Castile in Falcon Heights — at the hands of police.
"I don't really know what to say, but I've been spreading joy and I've been hoping to do that," Payne continued. "But I found myself the last couple of days being silent because I've been so sad and so hurt by what's going on."
Payne said she wanted make the video of her singing "Heal the World" because the song has "really meant something amazing" to her and felt that "somebody needs to sing these lyrics again" to inspire others to make the world a better place.
She sang the Micheal Jackson lyrics:
"Heal the world. Make it a better place for you and for me and the entire human race. There are people dying. If you care enough for the living, make a better place."
Chewbacca Mom's first viral video made us laugh until our stomachs hurt, but she'll make you cry after listening to her beautifully sing the touching lyrics. The video, posted on Saturday, has also gone viral with many commenting to thank her for sharing such a strong message.
Earlier this week, Payne showed off her singing skills and sang the national anthem at an Astros vs. Mariners game on Tuesday. Needless to say, the crowd was impressed.
Chewbacca Mom is already an internet sensation and is easily becoming America's Sweetheart. Her latest viral hit is not only beautiful to listen to, but it's exactly what the world needs right now. "Make a better place, y'all," she concluded the heartwarming video. "Fill it with joy. Not hate. C'mon."