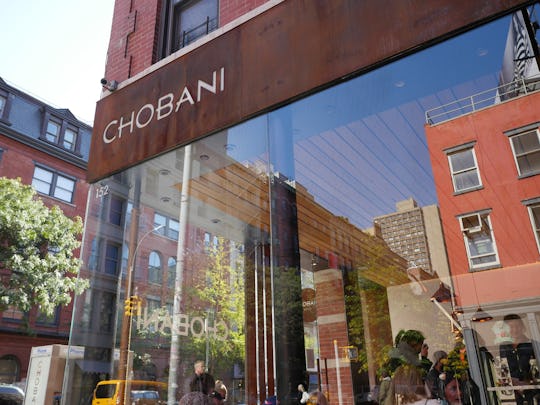 Chobani
Chobani Will Give 6 Weeks of Paid Leave To Moms & Dads, & It's A Huge Step Forward
A movement is on to push for paid family leave is gaining momentum across the country. It's past due that the United States join the rest of the industrialized world and offer paid leave for both men and women to take care of children or a loved one, like an aging parent. Which is why it's so nice to see brands stepping up to do their part. Food company Chobani will give six weeks of paid leave to moms and dads, according to a Thursday press release. Let's just hope this starts a major trend to make life just a little easier for American working families.
According to Ellen Bravo, the executive director of Family Values @Work, a group that advocates for working families, 25 percent of women have to go back to work within two weeks of giving birth. Two weeks. "That's a scandal," she told CNN.
Which is why it's worth celebrating companies that are willing to bring a little more sanity to the work-life balance. Starting in 2017, Chobani will give new moms and dads six weeks of 100 percent paid leave. That includes all salaried employees as well as hourly manufacturing workers. It also includes employees who adopt or become foster parents.
And it's safe to say the new policy was well received by employees.
It's not just a valuable thing to offer their employees, it highlights the need for corporate America to lead the way toward making life more sane for America's workforce.
The new Chobani policy is probably also attributable in no small part to the fact that the company has mothers at the board room table when decisions about leave are being made. No one knows about juggling child care and work better than a woman currently in the trenches. Grace Zuncic, Chobani vice president of corporate development, said in a statement announcing the new plan that her experience as a new mom helped her understand why paid leave is a good investment in our kids.
In designing employee benefits like parental leave, we've always tried to take a holistic view that includes everyone in the company. What I value most as a new mom—and a newly expecting mom—is that paid parental leave isn't just about helping new parents, it's about our children. Our ability to spend time with them in their earliest days is essential. We hope the majority of U.S. companies that currently don't have plans in place to support new parents will get on-board with that thinking.
How great is that?
It's also critically important that the new policy includes fathers, too. Because when paid leave policies apply to just women, it encourages discrimination in the workplace, and even outside the workplace. Vicki Shabo, vice president of the National Partnership for Women & Families, told Quartz:
Policies that focus on women only reinforce the idea that it's the woman's job to take care of babies and raise children. These policies reinforce stereotypes of women to women themselves, as well as to their coworkers and the institutions that have an impact on their employment trajectory.
It's also just as important to give fathers an opportunity to just be dads for a while. Something Chobani CEO Hamdi Ulukaya found out first hand after the birth of his son, according to Quartz:
As a founder and a new father, my son opened my eyes to the fact that the vast majority of workers in this country don't have access to paid family leave when they have a new child. That's especially true when it comes to manufacturing and that needs to change in this country and Chobani needed to be part of that change.
The new policy even earned praise from Democratic candidate Former Secretary Hillary Clinton, who gave Chobani a shout out on Twitter.
Bravo. The world just got a little less hostile to working families, and that's a beautiful thing.