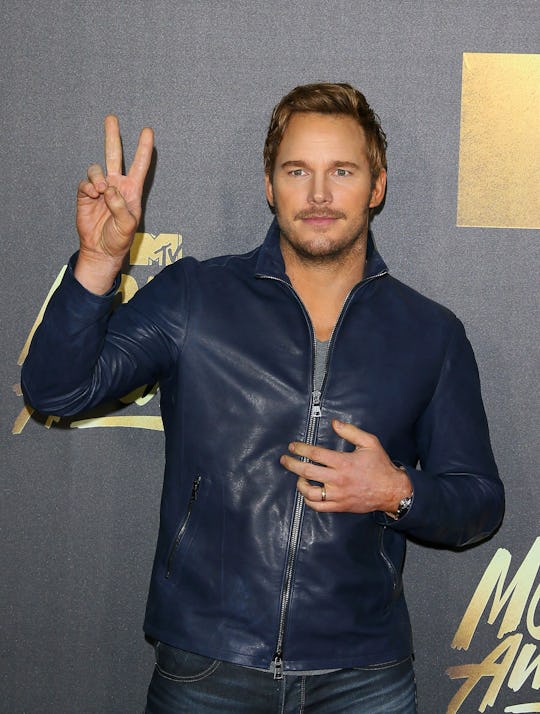 JEAN BAPTISTE LACROIX/AFP/Getty Images
Chris Pratt's Shoutout To Anna Faris At The MTV Movie Awards Was The Absolute Sweetest
So just when you thought you couldn't be any more in love with him, Chris Pratt's shoutout to Anna Faris at the MTV Movie Awards made him even more lovable. The Jurassic World star was already getting loads of attention at the MTV Movie Awards before he won his award, and then came his epic speech that had female fans conversely falling in love and getting mad at their boyfriends for not being Chris Pratt. Not that it's their fault, but you can't blame a girl for dreaming about a little Chris Pratt love, right?
Chris Pratt and his wife, Mom star Anna Faris, have actually been married since 2009. They met on the set of the movie Take Me Home Tonight back in 2007. Although Faris was married at the time, Pratt told Esquire that he worked to his advantage, because he was able to be himself.
"She was hot and funny, but she wasn't single, so there were no stakes," Pratt told the publication in 2014. "Why even bother trying to be the kind of guy she would date?"
A year later, Faris was divorced and she and Pratt became an item.Then in 2009, they got married in an intimate ceremony in Bali. They are now the proud parents to son Jack, and their careers are getting hotter all the time.
His MTV Movie Awards acceptance speech was a perfect homage to many people. First of all, the action stars who inspired him.
And even more importantly/adorably/wonderfully, an homage to the love of his life.
"Darlin'," he called wife Faris. "Our son was always destined to be strong, but thanks to you he's going to be smart too."
And with that, everyone fell deeper in love with this adorable couple.
In the last two years, Pratt has managed to make a name for himself as a bankable action star with a side of smart ass humor. A perfect combination, really. Between Guardians of the Galaxy and Jurassic World, Pratt is a far cry away from the always lovable goofball Andy Dwyer from Parks and Recreations most of us remember.
He has clearly never forgotten his roots though. When his old co-star from Parks and Recreations Amy Poehler won her MTV Movie Award for Best Virtual Performance, Pratt was out of his seat and honoring his friend with a standing ovation.
Clearly a good man with a good heart who knows how to treat the people he loves. Any chance we have the scientific knowledge to clone him?