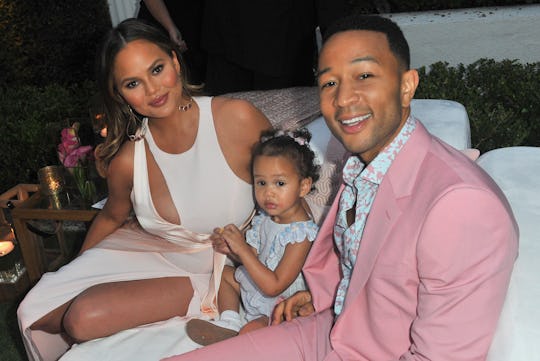 Jerod Harris/Getty Images Entertainment/Getty Images
This Memento Chrissy Teigen's Daughter Luna Will Keep At Preschool Is So Sweet & So Brilliant
With baby Miles fully settled into the Teigen-Legend household, now is the perfect time for Luna to head off to school. This week marked the first day of preschool for Luna, Chrissy Teigen and John Legend's daughter. In a celebratory Instagram post, Chrissy Teigen shared the family photo album Luna is bringing with her to school, and the whole thing is making Teigen — and fans — so emotional.
On Wednesday, Teigen Instagrammed a photo of Luna, who turned 2 years old in April, standing outside on a sunny day. In the shot, she is wearing white sandals with tiny balloon decals on them, a floral dress, a jean jacket, a backpack, and pink bows in her hair. She may not know how to read yet, but she's staring intently at the family photo album (that reads "Luna" on the cover) in her hands.
"First week of school 😩," Teigen captured the image. "They had us make a little family photo album she can look at when she's sad or upset. She loves it. My heart ksosksodododosksidojsjskodmskzh." Chrissy, dodosksidojsjskodmskzh is right.
Many fans commented on the Instagram post, telling Teigen that they loved the photo album idea. "Such a wonderful idea! She's absolutely precious. 💞" one fan commented. "That's just the cutest idea!" added another.
A ton of others commented on the picture simply expressing how cute Luna is. "She's so precious. Time goes by way too fast 😭💖," one fan wrote. "I can't even deal with the cuteness," another added.
The photo even grabbed fellow celebrity mama Mariah Carey's attention. "So cute!!! ❤️," Carey commented. "O M F G MY QUEEN," Teigen wrote back.
This is far from the only piece of info Teigen has shared about her daughter's introduction to the world of academia. Shortly after posting the photo, Teigen shared a video to Instagram, in which she asked Luna questions about her day at preschool.
"Luna what happened today?" Teigen asked. "I fall down my forehead," Luna replied. "No, that was in Bali. What did you do today?" Teigen prompted her, eventually getting her to admit the following: "I pushed a boy." Teigen then replied, "You did."
And earlier this week, after attending the preschool's orientation, Teigen issued an apology to her fellow parents for — wait for it — "projectile" puking when she got there, as USA Today reported.
"Hello everyone from Luna's school orientation today," Teigen tweeted on Monday. "I'm sorry I projectile puked caffeine upon arrival, couldn't open my eyes and had the noisiest newborn in the room. (Not a joke, very sorry, see you tomorrow.)"
She also clarified to her followers exactly why she threw up. "Oh no it was not first day of school jitters," she wrote. "It was last night's wine and Korean bbq and jet lag combo."
A nosy follower even asked her if the throwing up had to do with family expansion. "You sure it wasn't baby #3?" the fan asked. Teigen was quick to respond. "Please Lord no not right now lol," Teigen wrote.
Last Sunday, while on vacation in Bali, Teigen and Legend disclosed to followers that Luna was starting preschool this fall. "Am I the only one questioning how long @chrissyteigen's vacation is," a fan tweeted. "I have an incredible amount of shit to do in September and October so we are taking now to breathe!" the Lip Sync Battle responded. "Plus Luna has her first day of school soon 😩😩😩."
Here's hoping Teigen and Legend continue updating fans on Luna's hilarious and adorable academic career. And perhaps a glimpse of the photo album she brings to preschool?