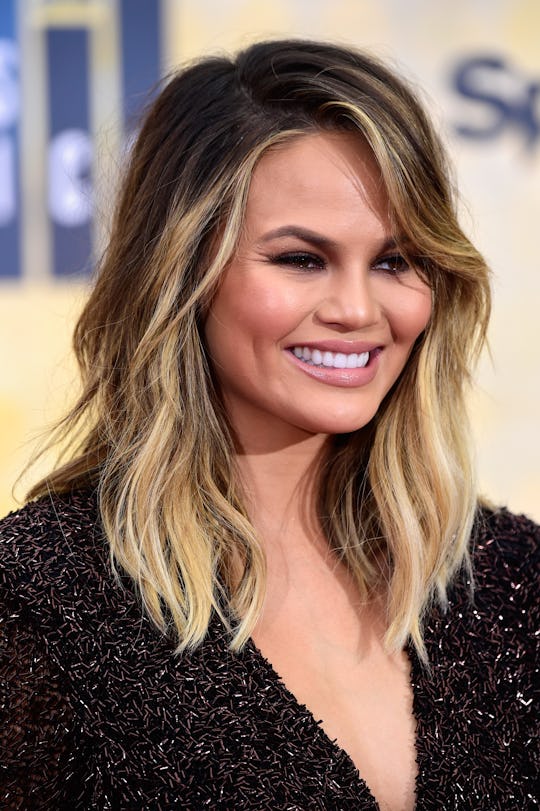 Frazer Harrison/Getty Images Entertainment/Getty Images
Chrissy Teigen Posted A Snapchat Of Her Daughter Luna & She's An Adorable Mermaid
Gorgeous model and social media spitfire Chrissy Teigen's Snapchat story is so fun to follow if only for the baby bump pics, yummy cooking videos, and now the adorable and snuggly selfies with her baby girl, who is becoming pretty famous on her own. In another cute post, Chrissy Teigen shared a Snapchat of her daughter Luna and she's absolutely adorable dressed in a knitted mermaid outfit. Teigen had been posting promotional Snapchats for Vita Coco Coconut Oil and Thursday's post, captioned "Oh my gosh thank you team vita coco!!!" acted as a sort of thank you note after gifting baby Luna the adorable mermaid gear.
In the video clip, the model's little girl was dressed in a coral pink knitted shell-shaped bikini top with a sea foam green knitted fishtail bottom. It was the perfect follow-up, after Teigen posted another Snapchat video just the day before, on Wednesday, of her rubbing the promotional coconut oil on three-month-old Luna's tiny foot.
Little Luna isn't the only star of Teigen's Snapchat promotional posts for the Vita Coco brand. The model mom posted a Snapchat of herself, featuring her musician hubby John Legend, and created a coconut bra using a creative mix of stickers and filters to promote her new partnership with the coconut product brand.
It's pretty clear that the Lip Sync Battle co-host has been having a blast endorsing the coconut oil products. In addition to Luna's toe massage, Teigen also posted Snapchats of her frying eggs and buttering toast with the coconut oil. She also may have shaved her legs and popped some popcorn with the Vita Coco product, which she said in a post that the company sent her 862 jars of to get pretty creative with.
The A-list couple welcomed their baby girl to the world on April 14 and baby Luna was on social media in no time. Teigen showed off her little girl an adorable Instagram photo of herself and her daughter just days later, which she captioned "hi my lulu!"
Last week, the Sports Illustrated swimsuit model starred in Fergie's new music video "MILF$." In one scene of the video, Teigen is seen breastfeeding Luna, which she told People was an impromptu moment.
"It was [like], '[Luna's] here, and it's "MILF Money" — I would love to capture this moment with her,'" Teigen told People in an interview on Monday. "I think it's beautiful.
Teigen has faced some brutal mom shaming since she gave birth to her daughter three months ago, starting with a date night she shared with her husband a few weeks after Luna was born. In an interview with Good Morning America, she said she did know that kind of bullying existed, but her presence on social media has done of opposite of what internet bullies want and that's the reason her fans love her.
Even if her latest Snapchat spree is for promotional purposes, it's refreshing that she's honest and up front about it and the adorable posts of baby Luna are a sweet treat for her fans.