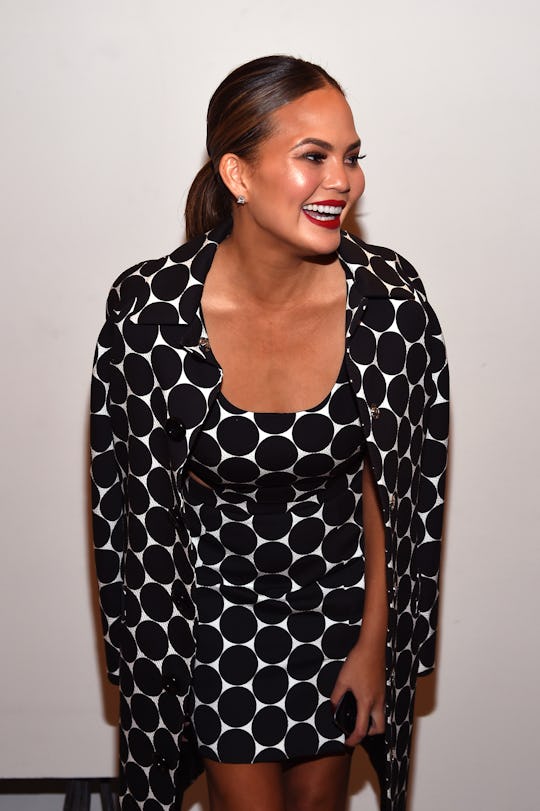 Dimitrios Kambouris/Getty Images Entertainment/Getty Images
Chrissy Teigen Posts More Halloween Photos Of Luna & Basically Wins Halloween
Can Chrissy Teigen adopt me, please? Mostly because she would supply me with an endless amount of Halloween costumes and hilarious commentary to go with them, if her recent Instagram posts are anything to go by. Teigen posted more Halloween pictures of Luna on Sunday evening, bringing my (totally official) Luna costume count up to eight in total. And while Luna herself didn't seem too pleased in the pictures Teigen posted, the rest of the world was pretty happy about the not-at-all-spooky photo shoot.
On Saturday night, Teigen posted on Twitter, in her usually candid way: "I have zero desire to go to a Halloween party tonight but I'm still being a jealous hater b*tch looking at my Instagram feed." Clearly, though, she repurposed that energy, instead using it to dress up her 6-month-old daughter, Luna, in a variety of different costumes. Luna was successfully transformed into a hotdog, a peacock, Minnie Mouse, a banana, Little Red Riding Hood, a Pink Lady from Grease, a luau dancer, and Alice in Wonderland over the course of three days. (It's obviously been a very busy Halloweekend for Teigen and her daughter, who seems like she's following in her mom's modeling footsteps already.)
Without further ado, here are some of the latest adorable pictures posted by Teigen.
Little Red Riding Hood
Teigen captioned this shot with "I'll take this as a no." Luna, of course, was a bit confused about this whole get-up — but 100 percent adorably confused. (Also, oh my god, look at those tiny little baby toes.)
Alice in Wonderland
"Needs more flair," Teigen wrote beneath her shot of Luna dressed as Alice in Wonderland. Luna seems just a bit more comfortable posing in this outfit.
Pink Ladies
Teigen gifted the world with a full video of Luna enduring a Halloween costume as well. In the video, Teigen cooed, "Okay, Luna, show us your costume! Feeling it? No?"
No, Luna was definitely not feeling it.
Luau Dancer
I can't take these final two pictures. They're just way too cute, especially Luna's rebellion as she rips off her lei at the end.
It looks like this is the end of Luna's modeling, though — at least for now. Teigen captioned her final costume picture with an update, writing: "Ok that is a wrap on costumes. Some were sent to us from very kind vendors but we are going to donate them all tonight so other families can get the same joy out of them. Tomorrow's adventure: john's FIRST pumpkin carving. How on earth??!?!!?"
Looks like Teigen's Halloweekend of fun is set to continue — and I'm pretty confident that we'll see a picture of baby Luna sitting next to a pumpkin sometime soon.