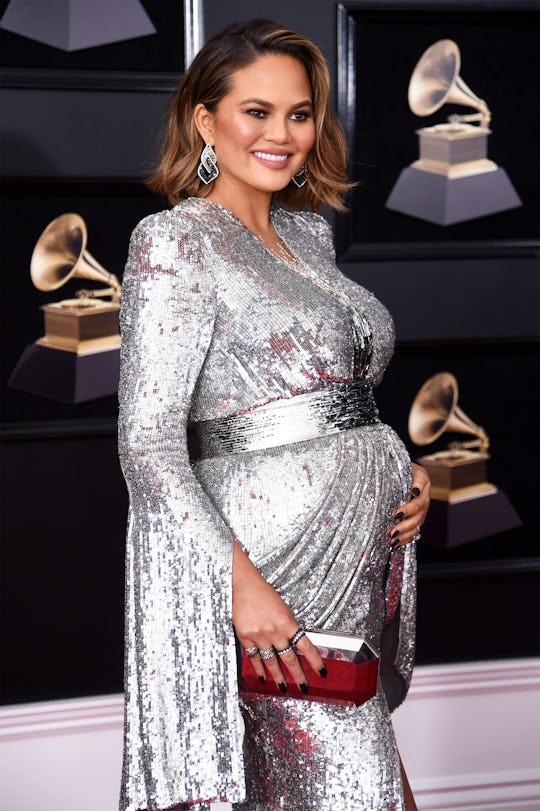 Dimitrios Kambouris/Getty Images Entertainment/Getty Images
Chrissy Teigen Joked That Luna Is A "Cranky Butthead" At Bedtime & It's So, So Relatable
If you somehow missed it, Chrissy Teigen revealed the sex of her second child on the night of the 2018 Grammy Awards on Sunday. (Awww, congrats mama!) However, this wasn't the only awesome thing to come from the funny model yesterday. That's because a pregnant Teigen and her husband John Legend attended the Pre-Grammy Gala as well — and they shared a little insight into life with a toddler. Apparently, Teigen said daughter Luna is a "cranky butthead" at bedtime, jokingly of course, and parents everywhere can relate to that struggle.
Teigen took Instagram to share some exciting news with her followers on the night of the Grammy Awards, as reported by People. The snapshot featured the expectant mama in a silver gown while resting her hand on her bump. "Mama and her baby boy," the star captioned the gorgeous photo. Wait, what?! Did Chrissy Teigen just low-key reveal the sex of her second child while the rest of the world was busy paying attention to the Grammys? That she did, folks. It looks like Luna will soon be the big sister to a baby brother!
Naturally, this exciting announcement pretty much overshadowed anything else having to do with Teigen at the awards show — including a pre-Grammys interview done by E! News.
In reference to an adorable Instagram video Teigen had posted of Luna walking down flight of stairs with her famous daddy, E! News' Sibley Scoles asked Legend if Luna had a difficult time when her parents left for Clive Davis' annual Pre-Grammy Gala. "She is always sad when we leave. She throws a little fit," Legend responded, according to E! News. Teigen chimed in on the conversation, elaborating:
But it's also because its late at night and she's just a cranky butthead at nighttime.
Legend added, "She gets tired at night so everything gets worse," to which Teigen responded, "As soon as the door closes, she forgets us. She's moved on to something else."
LOL. Is this not literally every toddler? Same, guys. Same.
As a mom of three, I can relate to this so hard. Especially on days that my younger two refuse to nap, they pretty much can't even by the time 6:30 p.m. rolls around. Simply asking my 4-year-old to go potty or brush her teeth results in a cascade of tears and adamant refusals. (Along with her insisting she's "not even tired." Yeah, right.) And my toddler — who happens to be almost exactly the same age as Luna — makes it a point to burst into tears whenever I leave her anywhere. (But of course, she's always fine 30 seconds after I'm gone.)
Combine this separation anxiety with a sleepy toddler and it's an epic tear fest if I have any evening obligations. Sigh. At least I know I'm not alone in the madness.
Another funny red carpet moment you might have missed from Teigen and Legend involved a hilarious toilet mishap. "We were having a transition from a regular toilet to a Japanese toilet that washes your butt and opens itself," Legend told Ryan Seacrest, according to E! News. "And the contractor, they came in and removed the first toilet — but they didn't replace it immediately. And so we had to wait another day before the next got installed."
"I laughed so hard I peed all over myself," Teigen added. "I literally was like, 'Of course this would happen to me!' And I was just ... I peed."
In case you're wondering, the topic came up because Seacrest had asked about Teigen's tweet from Jan. 25 — during which she confessed to peeing herself because the toilet was missing, as the Daily Mail reported.
Oh man. I can totally see that being an issue even if it didn't involve a pregnant woman. With growing baby sitting on Teigen's bladder, who could blame her?
Leave it to Chrissy Teigen to keep it real. Whether it's about pregnancy incontinence, "cranky butt head" toddlers, or her grey Cruella hair, this funny mom is basically my spirit animal.
Check out Romper's new video series, Romper's Doula Diaries:
Watch full episodes of Romper's Doula Diaries on Facebook Watch.