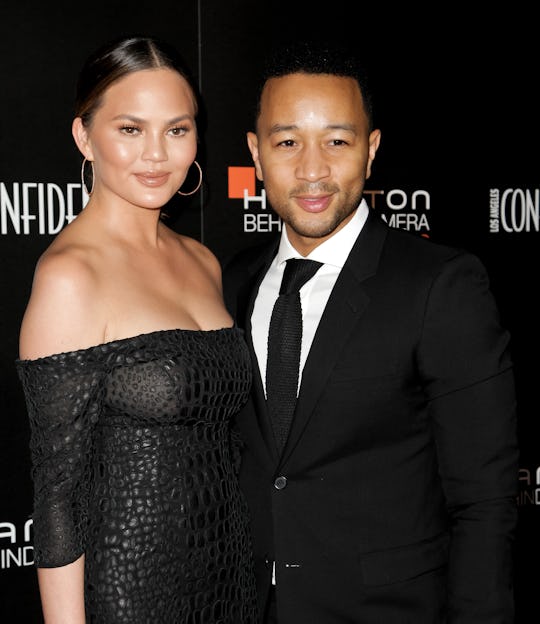 Tibrina Hobson/Getty Images Entertainment/Getty Images
Chrissy Teigen Says She Keeps Luna's Umbilical Cord In The Closet, & We're All Curious
I have a long list of reasons to love Chrissy Teigen, but here is my No. 1: she does her. She doesn't care if people don't like what she's about, she just goes about her day being Chrissy Teigen and basically not caring about the haters. Also I want her cookbook for Christmas. So when Teigen said she keeps Luna's umbilical cord in the closet, at first I was all "ew, Chrissy, NO!" but then I remembered: Teigen doesn't care if I don't like it. And that's sort of awesome.
Teigen and husband, singer John Legend, welcomed adorable baby Luna seven months ago, and Teigen has clearly been over the moon (see what I did there?) for her ever since. Like, really over the moon. As in, so sentimental she can't get rid of anything connected to Luna, especially not the cord that quite literally connected her to Luna in vitro. She told Cosmopolitan Australia that she keeps Luna's umbilical cord in the closet, but didn't say any more about the subject. She dropped the bomb and moved on. Leaving us wondering why she kept the umbilical cord and how it is stored, because I'm betting her closet is full of some pretty fabulous designer duds. And a big old umbilical cord just hanging there on a hanger might ruin the feng shui of the whole scene.
Model and Lip Sync Battle host Teigen isn't the only mom out there who wants to commemorate the birth of her baby by keeping the umbilical cord around; umbilical cord art is actually a thing now.
Apparently mothers who want to preserve the umbilical cord can twist it into different shapes while it's still fresh and pliable. Shaping the cord into the word "LOVE" or into a sweet little heart. So maybe that's what Teigen did with Luna's umbilical cord. Maybe it's twisted into some sort of keepsake.
In that same interview with Cosmopolitan Australia, Teigen also shared an interesting little tidbit about her lady bits and husband Legend. Apparently, she "didn't think about the ripping" when giving birth, but not to worry, her parts down south remain in admirable working order. As she held baby Luna and the doctors were stitching her up:
"There's this thing called the 'Daddy Stitch' - they do an extra one for daddy."
OK, so you guys know I love Teigen, but even I didn't need to know about the daddy stitch. Or the umbilical cord. But she's keeping it real, so I guess we have to admire her for it, right?
Right?