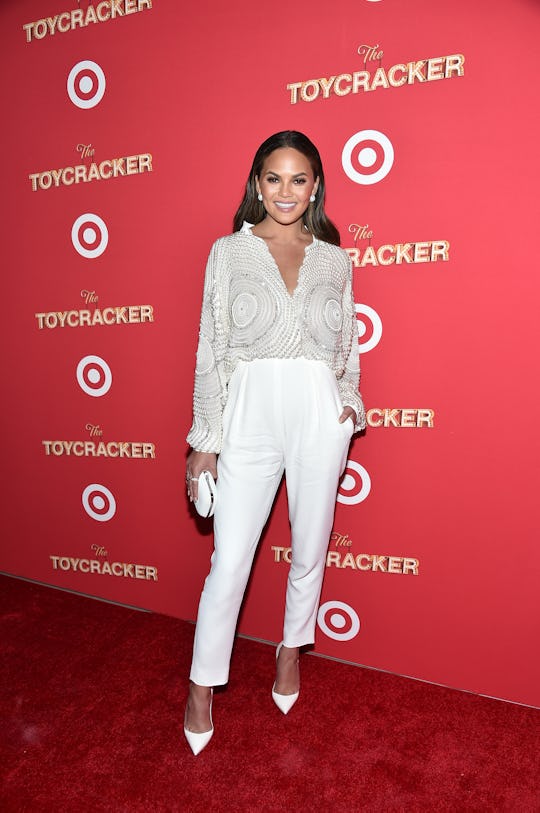 Mike Coppola/Getty Images Entertainment/Getty Images
Chrissy Teigen Is Trolling Trump, & It's Great
President-elect Donald Trump has boasted many times about the success of his reality show The Apprentice, and has also made no secret of his disdain for anyone who criticizes or makes fun of him (his tweets about Saturday Night Live, The New York Times and Vanity Fair have proven that pretty clearly). It's probably not a stretch to assume, then, that reports that big-name music acts have been turning down offers to perform at his inauguration has really bothered him, but on Thursday, Trump claimed that he didn't actually want big names at the event. Never one to shy away from a good Twitter retort, Chrissy Teigen said Trump is "dying" without the approval of A-list celebrities, and while she naturally received backlash for her comment, it was kind of validating to see that, like many of us, Teigen didn't even sort of buy Trump's tweet at all.
According to USA Today, on Thursday, Trump tweeted, "The so-called 'A' list celebrities are all wanting tixs to the inauguration, but look what they did for Hillary, NOTHING. I want the PEOPLE!" Clinton did, of course have a ton of celeb support, but as the wife of musician John Legend — someone who would actually make a pretty great inauguration performer — Teigen pointed out that perhaps Trump would do well to remember that A-list stars are people too. She tweeted, "Hi - we are people. You are our president too. I don't want you to be, but u are," before adding, "Also we ALL know you are dying without the approval, dear." And in true Teigen style, she then followed up by telling the president-elect to "have fun with DJ Buttcrack spinning the hot sh*t and Lil Banana dropping bars at your inauguration."
Later, Teigen followed up with a tweet commenting on the fact that many people had criticized her for implying that she was part of the "A-list," and wrote in a since-deleted tweet, "I thought it was obvious I was talking about john but nothing is obvious to deplorables." And when one Twitter user tried to insult Legend by calling him Teigen's "no talent illiterate husband," Teigen hit back, "John went to the same University as the Donald, silly billy. Only difference was John went at the young age of 16."
Trump's claim that he doesn't want celebrities might seem like his latest attempt to reframe negative news reports in his favor, but even if he's telling the truth, it definitely seems like he'll be getting what he's asked for. According to People, Trump's current inauguration performer lineup includes The Radio City Rockettes and the Mormon Tabernacle Choir (both groups have previously performed at presidential inaugurations, according to Newsweek), and America's Got Talent singer Jackie Evancho. That's not exactly a ton of star power for an event which has "traditionally been seen as a great honor for performers" to be part of, according to TIME — and it's also a big statement, given the big-name acts who signed on for previous presidents.
According to The Daily Beast, Beyoncé, Kelly Clarkson, and James Taylor performed at President Obama's 2013 inauguration, and at his 2009 inaugural ball, Beyoncé, Jay Z, Mariah Carey, Alicia Keys, Mary J. Blige, and Stevie Wonder (among others) all made appearances. Even President George W. Bush was able to nab Destiny's Child, Ricky Martin, Jessica Simpson, and 98 Degrees in 2001 according to Newsweek, and Presidents Bill Clinton and George H.W. Bush also boasted Fleetwood Mac and Bob Dylan, and Barbra Streisand, respectively.
The lack of stars signing on for Trump's big day has reportedly led his inauguration planning committee to recruit former American Idol and Dancing with the Stars booker Suzanne Bender to bring some bigger names on board, according to Vanity Fair. So far that doesn't seem to be happening: Elton John, Garth Brooks, KISS, and David Foster have all reportedly turned down invites to perform, according to The Daily Beast. The Beach Boys have also been asked, but have yet to confirm their decision, according to The Guardian, and while Andrea Bocelli was rumored to have agreed, he will not be performing after all, according to The New York Times.
Even local high school marching bands have opted out of the high-profile gig: according to NBC News, although "at least one D.C. public school marching band has participated in the past five inaugural parades," a spokesperson for D.C. public schools said that none of the area marching bands had applied to participate in Trump's inaugural parade.
In an interview with CNN's Brooke Baldwin, Trump's inaugural committee spokesman Boris Epshteyn said the committee has had "a ton of great performers, entertainers, and just Americans reaching out wanting to be a part [of the event]," but claimed that they were intentionally keeping it low key:
We are not putting on Woodstock. We are not putting on Summer Jam. We are putting on an inauguration ... It's not about artists. My top three people I'd like to see at the inaugural are Donald J. Trump, Donald J. Trump and Donald J. Trump.
But although many people have reportedly turned down offers to perform, there is at least one person who is definitely down to participate: Alec Baldwin. According to Entertainment Weekly, the actor — who has riled Trump with his hilarious impersonations of the President-elect on Saturday Night Live — tweeted, "I wanna perform at Trump's inauguration. I wanna sing 'Highway To Hell.'"
As entertaining as that would be, Baldwin probably shouldn't be expecting a call from Trump's camp anytime soon. In one of his tweets criticizing Saturday Night Live, Trump wrote that the show was "totally biased, not funny and the Baldwin impersonation just can't get any worse. Sad."