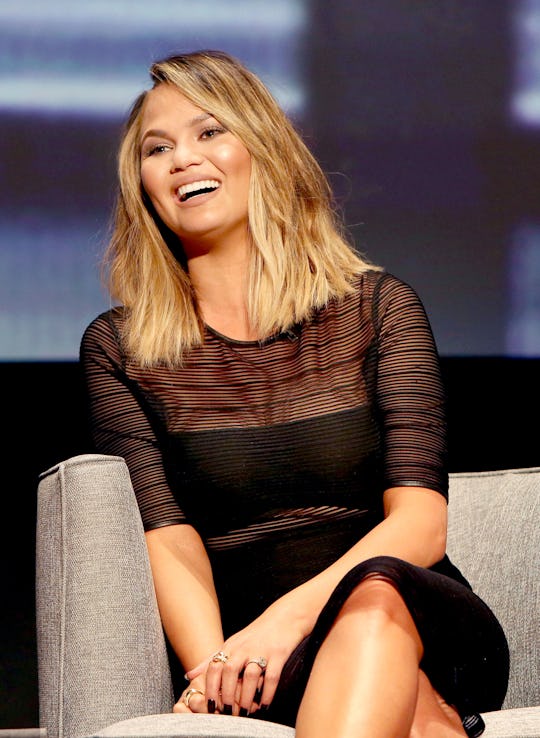 Rachel Murray/Getty Images Entertainment/Getty Images
Chrissy Teigen Snapchats Her Stretch Marks, Reminds Us It's Okay To Have Stretch Marks
Chrissy Teigen is undoubtably one of the realest celebrity moms in Hollywood right now. She is not afraid to talk about life, documenting the trials and tribulations all on her social media — from her body to raising her young daughter, Luna Simone. So, when Chrissy Teigen snapchats her stretch marks, people know that she is as real as they come and is probably subtly trying to drop some wisdom.
Chrissy Teigen leads a pretty perfect life — her Snapchat documents her travels around the world with her family, as well as her husband, the legendary John Legend — but everyone knows that there is often more than meets the eye, especially when it comes to celebrities' personal lives. Early Wednesday morning, Teigen snapped a video of her stretch marks and seemed totally cool about sharing it with her followers and the rest of the world. The clip shows a close up of Teigen's thigh with the caption "lol my thighs have tributaries," complete with the laugh-crying emoji (the one that goes perfectly with everything and every social media post, you know).
The video is short but serves as an important reminder for every woman who has stretch marks or thinks negatively about their body's "flaws" — it's a reminder that, yup, even models get stretch marks and it is totally okay to have them. It is this openness and willingness to share her life with her followers that makes Teigen so much fun to follow on social media.
Chrissy Teigen is as open as they come when it comes to being a mom and facing criticism. She's open about her sometimes-struggles with breastfeeding and not succumbing to the pressure to shed her post-pregnancy weight, even telling E! News back in July,
You just realize you have to give yourself time and understand that you push out a baby, and it took this long to put on the weight, and it's not going to peel right off, and that's ok.
This also isn't the first time that Teigen has been open about having stretch marks. According to E! News, in 2015, Teigen shared a photo of the stretch marks on her thighs pre-pregnancy. Teigen later went on The Meredith Viera show to talk about the photo. "I have those apps, the Facetune and Photoshopping ones, and I just didn't feel like doing it anymore — and I'm never doing it again, because I think we forgot what normal people look like now." Preach Chrissy, preach.
Teigen has a very valid point — and while it might be easy for a model to say these things, it is incredibly inspirational for her to do so. All it takes is one person to share their stretch marks to remind all women that it is okay and normal to have them — and that celebrities aren't immune to nature's course.
Go ahead — be proud of those stretch marks. Chrissy certainly is.