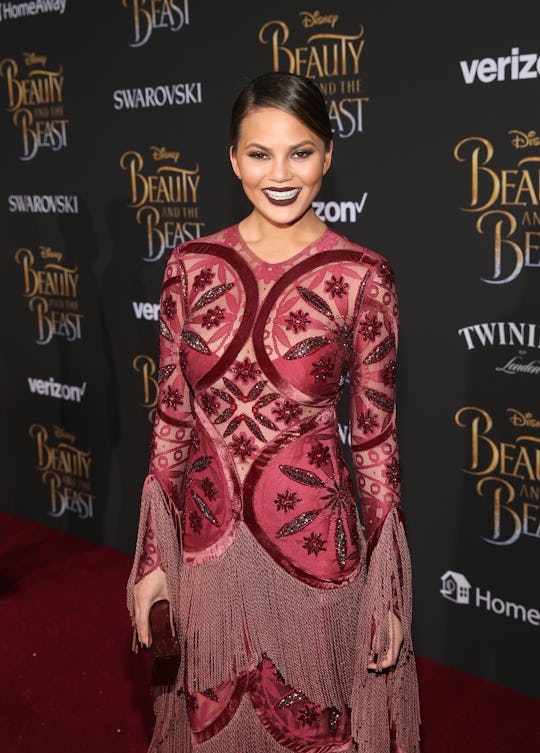 Jesse Grant/Getty Images Entertainment/Getty Images
Chrissy Teigen Took Luna To See 'Crazy Rich Asians' & It Was Incredibly Special
Since Crazy Rich Asians opened in theaters less than two weeks ago, millions of people have gone to see it — smashing box office records in the process. The latest crew to be enlightened by the amazing movie is one of your favorite Hollywood families. This weekend, John Legend and Chrissy Teigen took Luna to see Crazy Rich Asians, and Teigen later opened up about the meaningful experience in an Instagram post.
Sunday night, Teigen shared several photos and a video from the Teigen-Legend family outing (minus Miles — sorry, little dude!) to Instagram. In the first photo, Teigen and Luna, 2, are gazing at a wedding dress from the movie that was on display. In the second photo, Luna is cuddled up in her dad's arms while watching the movie screen. And the final slide is a video of Legend holding Luna in his arms, dancing in front of the screen as the credits roll. (Side note: Luna wore what appears to be a Tinkerbell dress to the movies, and she totally rocked it.)
"What can I really say about this movie that hasn't been said by absolutely everyone who has seen it," Teigen captioned the Instagram album. "I've been excited to see this since production was announced but I could have never imagined how wonderful it would be."
Teigen continued her post by explaining how Luna was able to recognize and relate to the representation of Asian characters on screen. She wrote:
I planned on seeing it, making a few jokes about how it checked all the boxes for me (CRAZY ☑️ RICH ☑️ ASIAN ☑️) but the feeling I got during the credits, watching John dance with my little black asian mashup baby bear Luna tunes, was a feeling I haven't had at the end of any other movies. Luna, aside from being blown away by the general movie-going experience (yep she's 13 now, time flies) looked up at @constancewu's mother and yelled "yāy!" ("Grandma" in Thai) because she saw someone who looked like her yāy. Someone beautiful and aspirational. It was something that simple that made my heart just...warm. That made me happy.
Teigen, who is Asian American, explained that her upbringing allowed her to understand the different angles of the movie, and to finally feel represented on screen. She continued:
It made me happy to see this over the top story done from so many angles, some I could totally understand because of my own confusing Asian American upbringing. I loved it all, from the quieter moments of talking around the table of sacrifice and past hardships to the spectacle of the bachelor party. Finding that I could cry watching the most over the top aisle walk on the planet.
You never know how much you miss being represented on screen until you actually see what it's like to be represented. And represented by all different types of characters with all different types of personalities, just like any other great movie.
Teigen makes an incredible point. Crazy Rich Asians is the only Hollywood studio film with an all Asian cast since 1993's The Joy Luck Club, according to The Hollywood Reporter. And it's clear that audiences want to see more movies like this — in the less than two weeks its been in theaters, Crazy Rich Asians has made $76.8 million according to data from comScore, CNN reported.
Teigen concluded her post by giving the film some final praise. "Also aside from all that, it's just colorful, fun and big as f—k," she wrote. "God I love a rom com. God I loved it all. Thank you guys for making this movie."