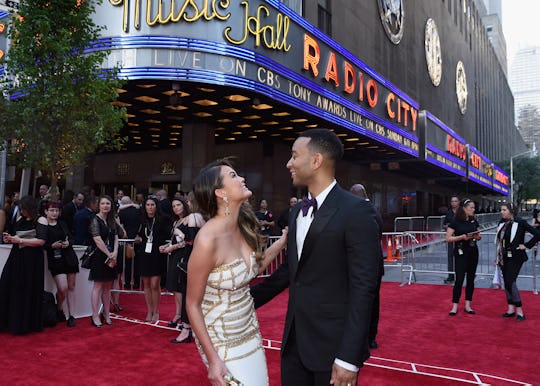 Jenny Anderson/Getty Images Entertainment/Getty Images
Chrissy Teigen's Embryo Storage Tweet Highlights This Reality
On Tuesday, Chrissy "I Wish She Was My Best Friend" Teigen sparked pregnancy rumors when she tweeted about the cost of freezing her embryos. Teigen took to Twitter to snark about an outstanding storage bill, which led people to believe that she was talking about her uterus (she wasn't). Of course, the ultimate queen of sarcasm shut down the rumors with her signature humor. Still, even though Chrissy Teigen's embryo storage tweet was funny, it highlights a sad reality.
As Refinery29 pointed out, Teigen has been vocal about her fertility issues. Last April, the Lip Sync Battle co-host gave birth to daughter Luna, her first child with husband John Legend, using in vitro fertilization. According to Refinery29, Teigen said in an interview at the Screen Actors Guild Awards in January that she's ready to have a boy, which would also happen through IVF. Although she chose the sex of her first child, her second one with Legend would be a boy because "that is the embryo we have left," the model clarified via Twitter.
Her tweet from Tuesday refers to that embryo. It's a lighthearted take on the price people pay for freezing their eggs, but IVF and embryo storage are out of reach for so many people because of those high costs.
How much you pay for embryo storage and IVF differs among companies. But the process can costs tens of thousands of dollars. According to Forbes, the average price tag of an initial IVF cycle can run $12,000 before medications; medications cost an additional $3,000 to $5,000. A preimplanatation genetic diagnosis — or PGD — is done to determine if the embryo has any genetic concerns before the egg is implanted. That process, Forbes reported, can cost an extra $3,000 to $6,000. To freeze your eggs, you may shell out upward of $5,000; annual storage costs run a few hundred a year. All told, you could be spending close to $30,000 for IVF and embryo storage.
It's a hefty price tag — one that makes the process impossible for so many people who want to become pregnant through sex, but can't. And it doesn't only affect people like Teigen who have issues with fertility. For example, the astronomical costs also shut out people who have or choose to remove their ovaries because of their high risk for ovarian cancer.
Although Teigen was poking fun at the cost of having children, her tweets brought to light the reality that the price of IVF and embryo storage is what prevents so many people from being able to access it in the first place.