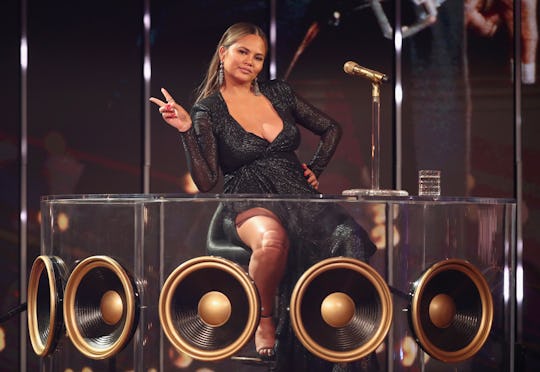 Christopher Polk/Getty Images Entertainment/Getty Images
Chrissy Teigen's Grammys Red Carpet Look Puts All Other Outfits To Shame
While it's true that the main purpose of the Grammy Awards is to celebrate and honor the best of the best in the music industry, it also serves as a chance for celebs to show off some pretty stunning fashion choices. And while the red carpet was full of stunning wardrobes, I have to say that Chrissy Teigen's Grammys red carpet look managed to put all other outfits to shame. It also puts my own personal wardrobe to shame, but that's honestly a pretty low bar and is another story for another time.
Of course, this shouldn't come as too big of a surprise though. Teigen has been rocking red carpet looks for years, so it's little surprise that her Grammys game was on point. However, there could also be another reason the Lip Sync Battle star looked particularly radiant on Sunday night. Teigen is pregnant with baby number two, so maybe it has something to do with that special "glow" they say all expecting moms seem to get. Or, you know, it could just have something to do with the fact that she's a downright gorgeous human being. Either way, she looked great and ready to celebrate all things music. Don't believe me? Just see for yourself:
Like I said, this sparkly gem puts all other outfits to shame. (Sorry everyone else, but I'm sticking by this claim.) And the good people of Twitter were totally here for it:
Teigen attended the event with her husband and famous singer, John Legend (you may have heard of him), and the two of them were just as adorable as ever. Seriously, if these two don't give you major #MarriageGoals then I don't know what would. Their Instagram posts alone bring sheer joy to my life. Teigen is extremely active on social media, whether she's tweeting stuff about motherhood or sharing cute videos of her daughter Luna on Instagram.
In fact, Teigen used Instagram as the means to announce that she was pregnant with baby number two. In a video, Luna can be seen climbing toward Teigen's belly, while being asked "What's in here?" to which Luna responded simply "Baby." Sounds pretty adorable, right? That's because it definitely was. But don't expect to find cute little Luna at the Grammys this evening (though OMG, can you imagine?). Teigen and Legend are enjoying a night on the town. Because, you know, some parents go out for a nice dinner without the kids — others attend the Grammys. Totally normal, right?
Regardless, Teigen definitely chose an amazing look that made her stand out in the best way possible. In fact, some fans couldn't help but commend her for rocking an awesome mirror ball look.
And just in case you thought Teigen couldn't be any more relatable, she posted a video on Instagram of her in mid-preparation for the Grammy Awards. But instead of showcasing her outfit or jewelry, she showcased her number one priority at that point in time: McDonald's food.
"Who cares about lipstick when the @McDonalds#123DollarMenu is involved? Not me," the caption read. I've honestly never felt closer to her than I do right now. So. Relatable. At this point, I'm not sure we even deserve the greatness that is Chrissy Teigen.
Suffice to say, Legend and Teigen once again rocked the red carpet and gave us all a reason to believe in true love. May we all find someone who looks at us the way Legend looks at Teigen. Never change, you two. Never change.
Check out Romper's new video series, Romper's Doula Diaries:
Watch full episodes of Romper's Doula Diaries on Facebook Watch.