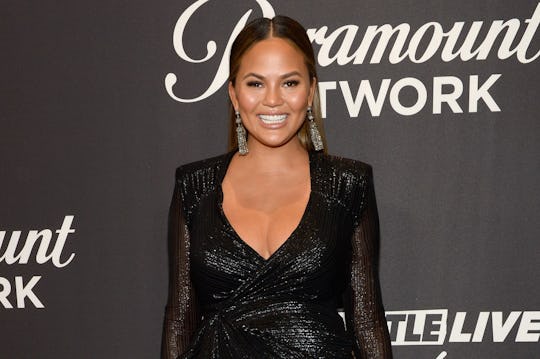 Tara Ziemba/Getty Images Entertainment/Getty Images
Chrissy Teigen's Tweets About 'Jesus Christ Superstar Live!' Are Next-Level Amazing
If you haven't checked out Chrissy Teigen's Twitter feed yet, then you're truly missing out. It's always a guarantee that she'll be tweeting something hilarious and almost eerily relatable. So considering her husband John Legend is starring as Jesus in NBC's newest live musical, Teigen didn't pass up the chance to comment on the show. Suffice to say, Chrissy Teigen's tweets about Jesus Christ Superstar Live! was the true blessing of the night.
There was no way Teigen could resist providing fans with hilarious quips throughout the night (on top of showing support for her husband, of course), especially since she'd been sharing how she felt even before the show aired. She'd spoken to Us Weekly about all the preparation Legend was doing for the role and how seriously he was taking it. She joked that "cooking for Jesus" was hard because her pregnancy made it difficult to be on her feet for very long, but luckily that didn't matter too much. As Teigen said, "I won't be cooking for Jesus since he'll be on a fast" so that he could be ready for his "shirtless scene."
Since Teigen had a front row seat to all the effort that went into the show, she was the perfect person to offer some insight while it was airing.
Teigen was ready to go from the moment the musical began. In fact, she was tweeting in the minutes leading up to it as well, making sure to let fans know that the opening number was imminent. Then once it had started, she had all kinds of thoughts to share — and it was clear she was absolutely living for watching her husband perform as the title role. Her delight and amusement was clear in how excited her posts were.
Though Teigen had insider insight since she was married to the lead, her tweets throughout the night were just like any other viewer's. She pointed out when she thought someone in the chorus bore a striking resemblance to someone else, and had a joke or two to spare about the costumes. Even when she couldn't quite follow the plot at times, she was able to get a hint from the wardrobe so she knew who the good guys were (and weren't).
And like any member of the audience at home, Teigen latched on to totally relatable moments, like a scene that looked like something her toddler might have taken part in. The only difference? Her daughter Luna had a front row seat to the actual rehearsals.
Teigen was also full of praise for Legend's co-stars, which included Sara Bareilles as Mary Magdalene. During one of Bareilles' numbers, Teigen had a totally humor-free compliment about how lovely she found Bareilles' voice. Many viewers surely agreed with the assessment. But it didn't stay serious for long (thankfully!): soon enough Teigen was back with another joke about everyone's extremely stylish ensembles and how they connected to the danger to come. The subject matter of this musical can get dark, so having Teigen's Twitter on hand to cut the tension is a must.
Teigen continued to mix her accolades with her characteristic comedy. She gave Legend well-deserved props for a song she knew he was nervous about, but then immediately pivoted away to lighter fare. The paparazzi Jesus had to deal with were real menaces! And it was a good thing Teigen was there to keep an eye on the ever-widening V-neck shirts sported by some of the cast (Legend included).
Teigen's tireless tweeting was the perfect accompaniment to Jesus Christ Superstar Live!, and definitely gave fans a little something extra to enjoy.
Check out Romper's new video series, Romper's Doula Diaries:
Watch full episodes of Romper's Doula Diaries on Facebook Watch.