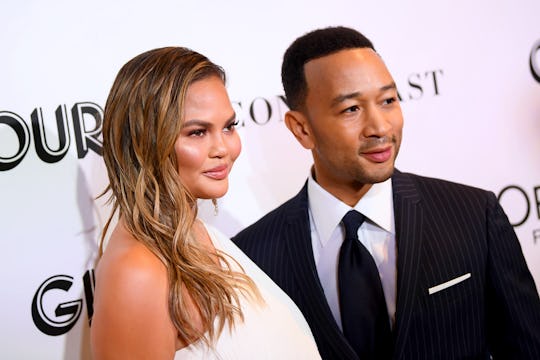 Dimitrios Kambouris/Getty Images Entertainment/Getty Images
Chrissy Teigen & Macy's Had The Best Twitter 'Feud' Ever
When I think of celebrity moms I might want to spend my Thanksgiving with, something I might do every now and again, the list of contenders is surprisingly short. Two people, really; either Joanna Gaines or Chrissy Teigen. I always thought it would be great to go down to Joanna Gaines' farm in Waco, Texas. and get her to cook meals for me and tell me her design secrets, but I also know our personalities wouldn't be a good mix. She might be too nice, unlike Teigen. How do I know this? Please see Teigen's Twitter "feud" with Macy's over their iconic Macy's Day parade. This is a girl who is just the right amount of nice and real to hang out with for Thanksgiving, her burnt pies notwithstanding.
The Cravings: Hungry For More cookbook author and mother of two apparently had a bone to pick with the parade back in 2014. Four years ago she apparently tweeted that she "couldn't imagine being bored enough to watch a parade on television," which might not have been a direct slam at the massive department store institution. Honestly, Teigen could have just meant watching televised parades in general. But that's not how Macy's saw it; the company shared a screenshot of Teigen's tweet from 2014 on Thursday alongside her husband, singer John Legend's, announcement that he would be performing in the parade with a simply #tbt.
It was pretty amazing.
And do you know who else thought it was sort of amazing? John Legend himself, who retweeted it with a big old "Hahahaha perfect" because that's how this couple rolls.
For her part, Teigen was clearly busy trying to get Thanksgiving dinner on the table with her two kids, 2-year-old daughter Luna and baby boy Miles, so one would think she might be a touch too busy to pay attention to Macy's. Wrong; Teigen always finds time for a great comeback or 10 on social media. She got the ball rolling by calling Macy's out for being "savage."
Then the Lip Sync Battle host went on to point out that "someone had to stay home and cook" on the big day. In other words, not everyone has the luxury of dancing around and singing on a float in the Macy's parade.
Teigen apparently decided to give this year's parade a shot and watched some of it, although she did admit the whole spectacle made her feel very "uncomfortable."
Macy's even came up with a possible reason for her discomfort... a marching band accident in her past life.
I don't blame Teigen for not being into the parade, even though her husband is performing in it. They are a little surreal. And she had a whole lot going on... a quick glance through her social media feed revealed burnt pies, enough gravy to feed all of Los Angeles, and also making the world's most incredible hot chocolate with little Luna.
Marshmallows and whipped cream, I didn't even know that was allowed. Clearly Chrissy Teigen is spending her Thanksgiving wisely. Eating and cooking and making light fun of her husband. This is why she would be the perfect celebrity guest at my table as long as she brought everything.
This first-time mom wants to have a home birth, but is she ready? Watch how a doula supports a military mom who's determined to have a home birth in Episode One of Romper's Doula Diaries, Season Two, below. Visit Bustle Digital Group's YouTube page for the next three episodes, launching every Monday starting November 26.