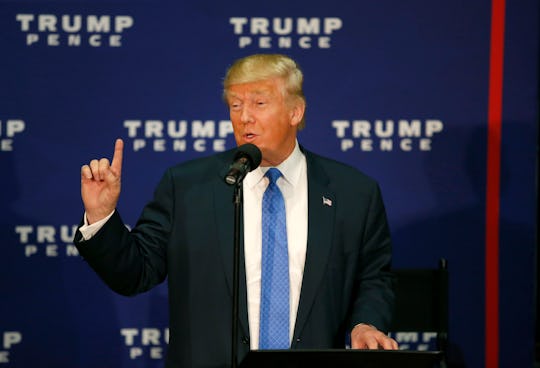 MARY SCHWALM/AFP/Getty Images
Clinton Campaign's Response To Donald Trump's Hot Mic Comments About Women Echoes Masses
Donald Trump is not new to being critiqued about his comments on women. On Friday afternoon, The Washington Post released a video of Trump saying lewd comments about women before an appearance on Access Hollywood. It didn't take long for people to react to the comments and the Clinton campaign's response to Donald Trump's hot mic comments about women are exactly what you would expect.
The video from 2005, obtained by The Washington Post, shows the recordings of Donald Trump, the Republican Party candidate for president, and Access Hollywood host Billy Bush talking about kissing and making moves on women. Honestly, the conversation is incredibly offensive — watching the video and listening to comments made is deeply uncomfortable. "I just start kissing them...Just kiss. I don't even wait," Trump said during the video. "And when you're a star, they let you do it. They let you do anything."
At another point, he talks about trying to woo a woman by taking her furniture shopping — and then later discusses her body in a demeaning manner. This is not the kind of conversation that people want to hear come out of a person who could be almost one month away from becoming the President of the United States. It didn't take long for voters to react to the comments — or for his opponent's camp to respond.
"This is horrific," Clinton's campaign wrote on her Twitter account. "We cannot allow this man to become president." Many would agree with this. It is horrific to hear these words coming out of the mouth of a potential Commander in Chief. It is sad to know that at one point, at least, Trump viewed women this way. If this is a man who says they'll "let you do anything" when you're a star — then what will "they" let you do when you're president? Donald Trump issued an apology, shortly after the video was released: "This was locker room banter, a private conversation that took place many years ago. Bill Clinton has said far worse to me on the golf course — not even close. I apologize if anyone was offended."
This isn't Trump's first time in the past two weeks that Trump's derogatory comments about women have surfaced. During the first presidential debate on Sept. 26, Hillary Clinton reminded voters that Trump called 1996 Miss Universe winner Alicia Machado "Miss Housekeeping" and "Miss Piggy" when he was the pageant's executive producer. Clinton used Trump's comments about Machado as an example of Trump's treatment towards women, and even released an ad with Machado's retelling of Trump's treatment towards her.
This video release comes just two days away from the second presidential debate. Last week, according to CBS News, Trump threatened that he might bring up Bill Clinton's former "extramarital affairs" during the debate. But as of Friday afternoon, Trump claimed he would be focusing on his "policies for the future" during the second debate and not the past. However, with this video and his comments in everyone's minds on Sunday, it could well be brought up at the debate. Trump's comments towards women in the video are unacceptable for a potential president. Clinton's response echoes what many already believe — that he cannot become President of the United States.