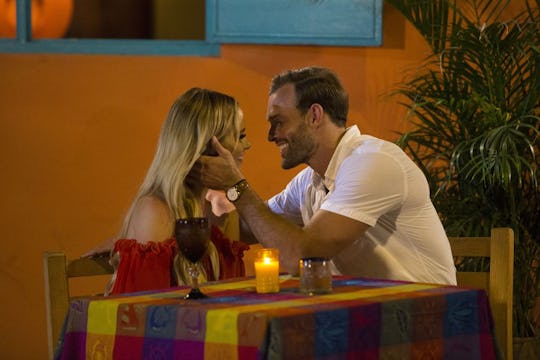 Paul Hebert/ABC
These Clues Suggest Robby & Amanda Are Dating After 'Paradise'
Evan and Carly are the clearest proof that couples who might not seem super into each other at first on Bachelor in Paradise might end up being endgame for each other. And since that's kind of how Amanda was with Robby at first, it makes you wonder if the clues that Robby and Amanda are dating after Bachelor in Paradise prove there's actually something to the whole "ending up with the person you least suspected in Paradise" thing.
That's not to say that Robby and Amanda don't make one of the the best looking couples in Bachelor Nation history though. Since on Instagram Robby calls himself "America's Ken Doll" and Amanda is basically a petite blonde Barbie, on paper they should totally be a match made in, well, paradise. And, it seems, after Bachelor in Paradise, Robby and Amanda are still together.
Not only have Robby and Amanda been spotted in public together before the season has even finished airing on TV, but they also attended a Dodgers game with fellow Bachelor Nation stars Jonathan (a.k.a. Tickle Monster) and Ashley I. If they wanted anyone to think they aren't a thing now that Bachelor in Paradise Season 4 is done filming, they've gone about it in a pretty sloppy way.
Typically though, contestants from Bachelor in Paradise seem to have a lot less strict rules than those of The Bachelor or The Bachelorette, who have to resort to secret weekend rendezvous before they can appear in public once their seasons are done filming. So while it's no surprise that they've been seen in public together already, the clues that Robby and Amanda are dating after Bachelor in Paradise are still piling up.
Like the fact that Amanda posted this photo of herself having breakfast in a swinging daybed just a couple of weeks after Robby posted a similar solo photo of himself.
According to the comments left on Robby's photo, it's the Cape Thompson Hotel in Cabo and I refuse to believe that it's merely coincidence that the two were at the same hotel, in the same swinging daybed, just weeks after one another. If anything, the photos were just cleverly posted on different days in a weak attempt to keep Robby and Amanda's relationship after Bachelor in Paradise somewhat secretive.
It also helps that prior to going on Bachelor in Paradise Season 4, both Amanda and Robby already lived in L.A., which would make maintaining a relationship off the show a lot easier. Last season, Amanda met and fell in love with Josh Murray and he even moved across the country to live with her and her two young daughters from a previous marriage. So moving to be closer to each other probably wouldn't have been out of the question, but it also makes things easier for a new couple to already be in the same city.
And since there's so little time between the end of filming and the show coming to an end on-air, it's probably difficult to stay quiet for long. On a recent episode of The Morning Breath podcast, Robby may have revealed just how close he and Amanda currently are in the real world:
Amanda and I are great. We're hanging out. We carried kind of what we had into figuring out how it could be in the real world because Paradise is a lot different. I think it's going to be the start of something special. I think everybody can see that.
Even though Season 4 of Bachelor in Paradise was shorter this year and may have not spanned enough time for some of the stronger couples to get engaged (there's still hope, however), Amanda and Robby seem like a couple who have, at the very least, built something solid to grow on. And since there are already so many clues that they made it as a couple after Bachelor in Paradise finished filming, there's a good chance they're still going strong.