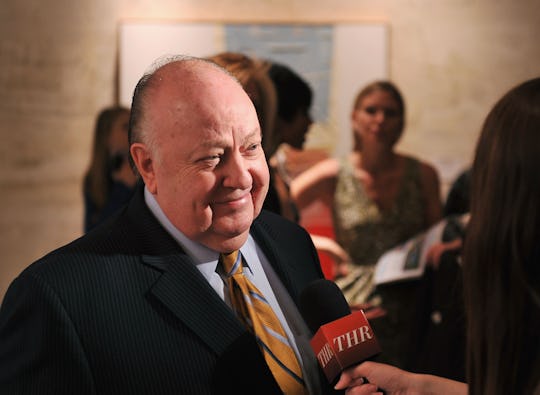 Stephen Lovekin/Getty Images Entertainment/Getty Images
How Conservatives Reacted To Roger Ailes' Death
When the news broke Thursday morning that Roger Ailes the former chairman and CEO of Fox News, had died, the response across the internet was resounding. And while many on Twitter shared how much they will not miss Ailes, who stepped down in 2016 following numerous accusations of sexual harassment, conservative reactions to Roger Ailes' death at age 77 show many people are willing to overlook his flaws.
Ailes resigned from Fox in July 2016 after anchor Gretchen Carlson filed a lawsuit against him for sexual harassment and multiple other women came forward with similar accusations. In April 2017, Fox contributor Julie Roginsky also sued Ailes for sexual harassment and alleged that Fox covered up his alleged behavior, CBS News reported.
At the time of Carlson's suit, Ailes' attorney argued that it was merely a smear campaign launched against Ailes. In a statement responding to Ailes' resignation, Rupert Murdoch, the head of Fox News' parent company 21st Century Fox, said Ailes had made a "remarkable contribution to our company and our country. Roger shared my vision of a great and independent television organization and executed it brilliantly over 20 great years. Fox News has given voice to those who were ignored by the traditional networks and has been one of the great commercial success stories of modern media."
Many conservatives seemed to be sharing those feelings Thursday, especially former colleagues and proteges in cable news. Joey Mannarino, co-host of YourVoice America, "the most uplifting Trump News and Analysis Talk Show in America today!" tweeted:
Fox News anchor Bret Baier shared his condolences with Ailes' family and praised Ailes' impact on the media:
Conservative radio mega-host Sean Hannity waxed effusive, releasing a string of tweets praising Ailes:
(See Hannity's Twitter feed for more.)
Conservative radio and television host Glenn Beck took to the airwaves immediately:
And self-described friend and conservative radio talk show host Laura Ingraham shared how much she'll miss Ailes:
Unsurprisingly, almost none mentioned the accusations against Ailes.