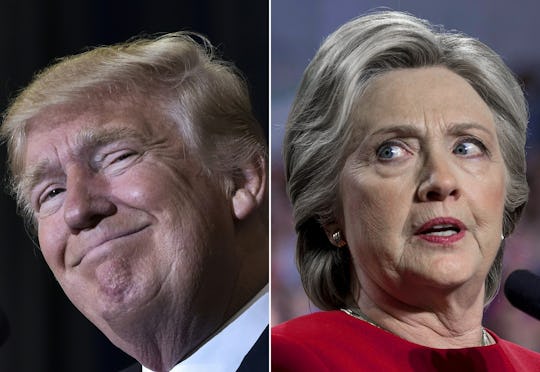 MANDEL NGAN/AFP/Getty Images
Could Hillary Contest The Election? She Has Already Reached Out To The Other Side
As the day after the election began and the country woke up to the undeniable fact that Republican presidential nominee Donald Trump is now the president-elect of the United States, looming questions remained. For example, citizens are wondering, "Could Hillary Clinton contest the election?" even though she has reached out to Trump via a private phone call and reportedly conceded the election. The Democratic presidential nominee and former Secretary of State Clinton is reportedly scheduled to address the people of the United States — including her passionate supporters, her staff, and those who ended up not voting for her — late Wednesday morning.
However, as votes continue to trickle in, despite Trump giving a victory speech late Tuesday night/early Wednesday morning, it's becoming more and more apparent that Clinton has a shot at winning the popular vote. Notoriously slow-counting California could give Clinton the popular vote lead. However, that's unlikely to change the outcome of the election, as Clinton has already conceded and Trump has already reached the necessary 270 electoral votes needed to secure the presidency. Like Al Gore learned in the 2000 presidential election, when he lost the presidency to George Bush, securing the popular vote does not mean you've secured a seat in the Oval Office.
Clinton didn't offer a public concession speech after the initial results of the election were reported, leaving many people to wonder if she would contest the election. That inquiry is still lingering — like the bad hangover so many of us are probably feeling thanks to a stunning election — and people took to twitter to voice their questions and concerns.
Prior to the election night results, Trump had warned of voter and election fraud, urging his supporters to be "on the look out" for a rigged election. Of course, those unfounded claims are no-longer part of his president-elect lexicon, so many are left wondering if the same claims can aid Clinton in contesting the shocking election results. Coupled with numerous reports of voter suppression in key voting states like North Carolina — and voting issues like sporadic equipment failures and exceptionally long lines — a reported concession speech and a private phone conversation between Clinton and Trump isn't keeping people from wondering if Clinton really will concede, or if she has it in her to contest the election.
Either way and regardless of what Clinton and her campaign decide, our nation has learned a lot about itself as a result of this unprecedented presidential election. That knowledge will linger for a very, very long time.