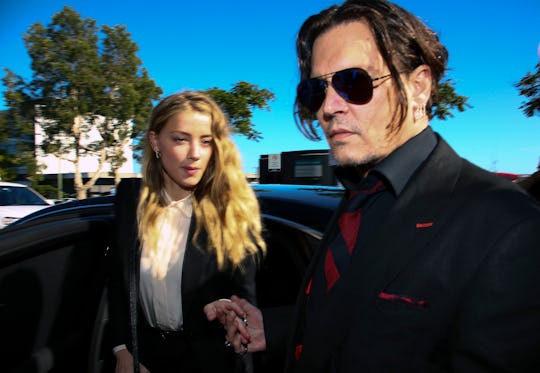 PATRICK HAMILTON/AFP/Getty Images
Could Johnny Depp Go To Jail? Amber Heard Filed A Restraining Order Against Him
Amber Heard has officially accused her husband Johnny Depp of domestic abuse. Heard appeared in the Superior Court of California County in Los Angeles, California, on Friday with her lawyer, Samantha Spector. Given the seriousness of her accusations, could Johnny Depp got to jail? Heard has filed a restraining order against him. Laura Wasser, Depp's attorney, did not immediately respond to Romper's request for comment.
Update: TMZ reported Friday that a judge granted Heard's restraining order request, which means Depp must stay 100 yards away from Heard until a hearing next month. The judge denied a number of her other motions, including her request for spousal support and her request that Depp pay her legal fees, according to TMZ.
Heard came to court on Friday prepared to make her case. She shared photos of her alleged injuries, including one where she has a black eye and bruising on her face. Though the investigation is still underway, here is what has been reported thus far: Depp's mother, Betty Sue Palmer, died just last Friday, and she and her son were very close. According to DailyMail, the incident in question occurred the next day, Saturday, in the couple's apartment when emotions and tensions were already very high. They reported that Heard was on the phone with a friend when Depp tried to take the phone out of her hand. She told the person she was talking with to the call the police. Heard alleged that when the police arrived on the scene, Depp fled. According to TMZ, she took the photo after Depp allegedly hit her in the face.
According to Heard, Depp wanted to keep the incident quiet and out of the media, even offering the 30-year-old actress money not to make her images public or file charges. She filed for divorce shortly thereafter. People reported that friends of the couple said this isn't the first instance of alleged domestic abuse. One source said, "This was only the latest incident."
Amidst this marital dispute, Depp is busy traveling the world to promote his new film Alice Through The Looking Glass, the latest in the series' Tim Burton reboot. As a result, he was not present in court, but his attorney, Wasser, acted as his proxy. One of Depp's representatives sent a statement to People regarding the restraining order and accusations of abuse. The statement said:
Given the brevity of this marriage and the most recent and tragic loss of his mother, Johnny will not respond to any of the salacious false stories, gossip, misinformation and lies about his personal life.
It went on to say, "'Hopefully the dissolution of this short marriage will be resolved quickly." Heard and Depp have only been married fifteen months. A source told People that Heard felt that filing for divorce was necessary for her safety and her sanity. They said, "Amber did what she had to do to take care of herself." Depp likely won't face jail time unless he breaks the restraining order granted by the judge.