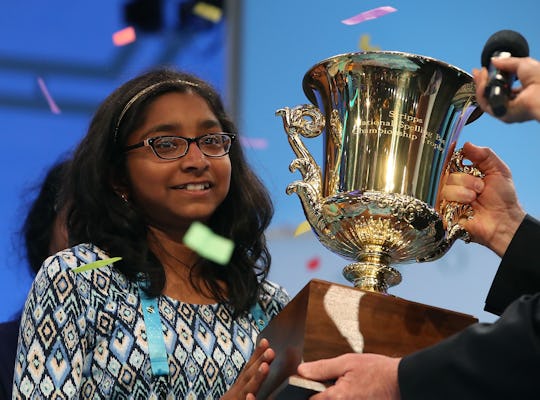 Mark Wilson/Getty Images News/Getty Images
"Covfefe" Stumps Spelling Bee National Champ
Autocorrect wasn't President Donald Trump's friend this week. In a late night tweet posted Tuesday, Trump wrote "covfefe," setting off an avalanche of memes mocking his spelling blunder. But the good members of the internet weren't the only ones confused by the president's made-up word. "Covfefe" even stumped the sixth grader who won the National Spelling Bee this week.
Ananya Vinay is the adorable 12-year-old middle schooler from Fresno, California, who crushed the spelling game on Thursday night. She's also the first solo winner of the Scripps National Spelling Bee since 2013, according to NPR. What Vinay is not, though, is someone who knows what "covfefe" is or the string of letters that forms the nonsense word.
On Friday morning, Vinay appeared on CNN New Day to celebrate her National Spelling Bee victory. Of course, hosts Alisyn Camerota and Chris Cuomo took this opportunity to challenge Vinay to spell a word that "has recently become popular," Camerota said, according to PEOPLE. The look on Vinay's face is priceless.
The spelling champ was stumped because, naturally, why would she know how to spell, as Camerota defined it, "a nonsense word made up by the 45th president of the United States this week in a late-night tweet"?
Before responding, Vinay went down the line of questions any spelling whiz would ask when they're up against a difficult word. "Language of origin?" Vinay asked, to which Camerota and Cuomo replied, "Gibberish," according to a video of the CNN New Day segment.
It took Vinay some time give her answer: C-O-F-E-F-E.
Of course, that's not how the president spelled it. But that didn't seem to bother Cuomo, who said her response was "good enough." He continued,
Thank you very much. That's the only good answer that we heard about that word in days.
If you're not hip to the "covfefe" scandal, here's how it went down: At 12:06 a.m. Eastern Time, Trump tweeted out "Despite the constant negative press covfefe." The stupefying post received 127,000 retweets and 62,000 likes within six hours before it was deleted, according to CNN. At six in the morning, Trump tweeted, "Who can figure out the true meaning of 'covfefe'??? Enjoy!"
People were left scratching their heads. They also seized the opportunity to meme-ify the fake word. And, according to the London Economic, someone even created a "covfefe" sticker app for iPhones.
I know I can't be the only one who's figured out that Trump meant "coverage" when he wrote "covfefe" (ah, the power of deduction). But his spelling error will live in infamy, much like the mistake that is his presidency.