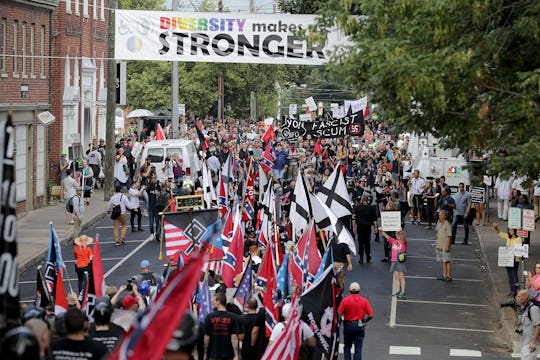 Chip Somodevilla/Getty Images News/Getty Images
Dad Disowns His Son In Open Letter After Charlottesville Rally
Masses gathered in Charlottesville, Virginia over the weekend for a protest that quickly turned violent. On one side were participators clad in KKK garb and swastikas who spoke proudly with the media about their hateful and dangerous ideologies. And as expected, most were not on this side of the argument. In fact, one protestor's dad penned an open letter about his son's participation in the rally and publicly disowned him. And as this letter shows, racism is not genetic and simply can't be forgiven — even for family.
The Unite the Right rally began as a planned protest against the removal of a statue of Confederate General Robert E. Lee, but things took a horrific turn when one white supremacist rammed his car into a group of protestors, injuring 19 people and killing one, later identified as Heather Heyer. Since the tragic incident, so-called "anti-racism vigilantes" have been methodically identifying the protestors photographed perpetuating hatred and calling attention to the roles that they play in local communities.
Not all participants, however, had to be outed. One such "activist" for the white supremacist cause spoke openly with the media about his reasons for attending the rally. According to High Plains Reader, Pete Tefft proudly called himself a "pro-white activist" earlier this month. While he claimed that title for himself, he didn't admit to being a "Nazi" or "Nazi sympathizer" because of the reputations Nazis have earned for themselves, according to the interview. At the time Tefft said:
My contention is that most of what constitutes hate speech affects pro-white speech. Anti hate speech is synonymous with anti-white and anti-America.
In the aftermath of the violence in Charlottesville, Tefft's father, Pearce Tefft, has since posted a response in the form of an open letter, which condemned the actions and sentiments of his son.
(Romper has reached out to Pete Tefft regarding his father's open letter and is awaiting a response.)
According to The Forum of Fargo-Moorhead, the elder Tefft wrote on Monday that his son "did not learn his 'hateful beliefs' at home" and that none of their family members are co-signing his actions and opinions. According to his father's letter:
I, along with all of his siblings and his entire family, wish to loudly repudiate my son's vile, hateful and racist rhetoric and actions.
While in attendance at the Charlottesville rally, the younger Tefft spoke again openly with several news sources about his "cause." In turn, his father wrote that in doing so, his son has caused negative consequences for the entire family:
His hateful opinions are bringing hateful rhetoric to his siblings, cousins, nieces and nephews as well as his parents. Why must we be guilty by association?
Along with blatant rejection of his son's hatred, the outraged father also shared his remorse for not speaking out earlier about his son's views. He drew a powerful parallel to the Holocaust that underlines the importance of taking a stand:
It was the silence of good people that allowed the Nazis to flourish the first time around, and it is the silence of good people that is allowing them to flourish now.
Tefft's father is not the only family member to call him out on his beliefs. According toThe Forum of Fargo-Moorhead, his nephew, Jacob Scott, also issued a statement and claimed that his uncle had threatened his family:
Peter is a maniac, who has turned away from all of us and gone down some insane internet rabbit-hole, and turned into a crazy nazi. He scares us all, we don't feel safe around him, and we don't know how he came to be this way.
It is never an easy thing to come to terms with the fact that someone close to you — especially a child or a blood relative — has chosen to be part of something truly awful, full of hate, and violence.
Indeed, it took a great deal of bravery for both Tefft's father and Scott to speak out against his actions. And going forward, their messages are a strong reminder that racism and hatred are not something that we are born with and a lot still needs to be done within our society to change this dangerous ideology.