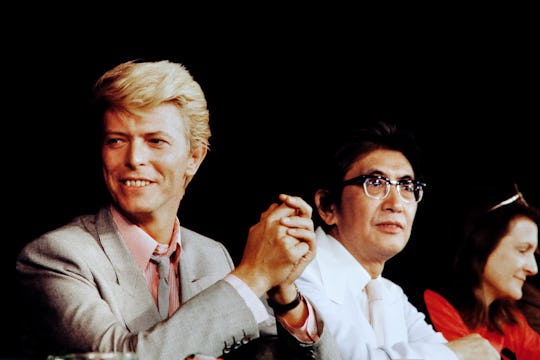 RALPH GATTI/AFP/Getty Images
David Bowie's 'Blackstar' Was Nominated For 5 2017 Grammys, Proving His Music Will Live On
David Bowie's death came as a sudden shock this year, especially because it followed so soon on the heels of his incredibly well-received album Blackstar, which unexpectedly became his last album. The album was a critical success made all the more poignant by Bowie's death, making it stand as an impressive final release and testament to the longevity of his career. Even at the end, he was still producing amazing music. It's no surprise that the album would get a little award love, too. David Bowie's Blackstar was nominated for five 2017 Grammys, proving his music still lives on.
Bowie scored nominations for Best Rock Performance, Best Rock Song, Best Alternative Music Album, Best Recording Package (he was the art director), and Best Engineered Album, Non-Classical. Some thought he would almost definitely snag a spot in Record of the Year as well, but that turned out not to be the case. Regardless, Bowie's legacy has certainly been honored by the five accolades he did receive, whether or not any of it actually results in a win. Bowie made an incredible impact on music throughout his career (and had earned his fair share of awards and nominations in the past), so garnering any nominations is just icing on the cake.
However, despite the various and sundry other awards Bowie earned over the years, he had only received two Grammy Awards wins out of twelve nominations. One win was for Best Video (short Form) in 1985 for the extremely memorable "Jazzin' For Blue Jean" (just kidding, because what?), a twenty-minute short film. His other Grammy wasn't a competitive win, but a Lifetime Achievement Award netted in 2006. Despite being such an iconic artist, Bowie didn't receive a ton of Grammy attention throughout his career, which just goes to prove that awards aren't everything.
Still, Bowie's posthumous nominations for the 2017 Grammys are a nice nod to a music legend. His career spanned decades, countless reinventions, and his final album was hailed for how experimental it was; Bowie was still pushing boundaries well into his career. Blackstar was a strange, unique album that totally summed up the man who made it. As far as final notes go, it's the perfect way to remember Bowie and the Grammy nods keep it at the forefront of fans' minds just a little longer.
It's a cliche, but it's true: Bowie may be gone but he's far from forgotten.