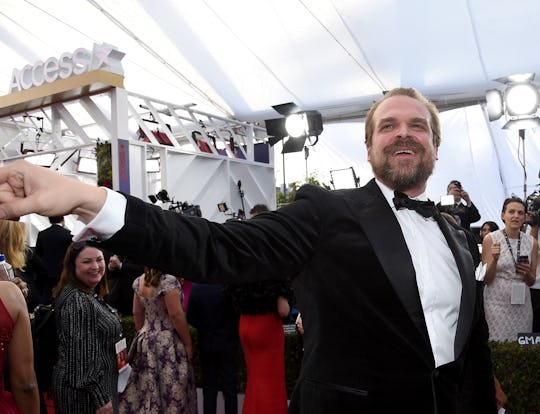 Kevork Djansezian/Getty Images Entertainment/Getty Images
David Harbour Didn't Win A SAG Award & Twitter Was Crushed
As we all know, the internet's favorite show is Stranger Things, the show about a group of kids in the '80s who find a secret Upside Down world and fight evil with the help of one mom and a grizzled sheriff with a heart of gold. This is probably why star of the show, David Harbour's, SAG Awards snub has Twitter absolutely heartbroken right now. He was nominated for Best Male Actor in a Drama Series, but the award ultimately went to Sterling K. Brown from This Is Us.
In the first season of the show, Harbour's character, Chief Jim Hopper, was responsible for one of the show's most iconic lines: "Mornings are for coffee and contemplation," a motto I have always lived my life by. He also captured the hearts of people everywhere as he tried to help Winona Ryder's character Joyce rescue her son from the Upside Down, where he was trapped and possibly about to die. But it wasn't until the second season and he became Eleven's adopted dad, that he really started to tug at the heartstrings. So it makes a certain amount of sense that though everyone loves Sterling K. Brown, a lot of people really wanted to see Harbour win.
In the second season of Stranger Things, Chief Hopper adopted Millie Bobby Brown's character Eleven as his own daughter. He taught her important things like you can't live on Eggos only and sometimes you have to eat peas. He invented the best dad dance in the world as the two of them cleaned out the secluded cabin where they hid. And he told Eleven not to take risks because, "we're not stupid." And who could forget his mild fatherly freakout when he learned that Eleven had hitchhiked to her mother's house with a nice man in a truck. It was an adorable and heart-wrenching portrayal of fatherhood, so it's no wonder fans were crushed.
That being said, I'm happy to report that most of the fans disappointed that Harbour didn't win the SAG Award were pretty gracious about the fact that Brown took home the award. Personally, though I loved Stranger Things, I see it as an awesome sign for the future of the world that a black man got to win such a prestigious award for once. Presenter Niecy Nash insisted on reading the name if it was Brown because he was the only black nominee, in a cute moment.
And for what it's worth, from all of my research I think that Harbour felt honored just to have been nominated for this award. I mean, wouldn't you feel like a million bucks just to get invited to this thing? And he had his costar right by his side for support, so he seemed to be taking the new fairly well:
"If it isn't wildly apparent by now, I'll say it directly — I love actors! To be recognized by my peers in such distinguished company gives me a special joy," he said in a statement when he got the nomination. He followed this up with a long and beautiful statement about the nature of his job. "When I act, when I create, I feel alive, full to bursting, and I feel of service to the mysterious goodness that firmly exists in this world." I love you, David Harbour. He finished his statement with a joke: "Thank you for recognizing me, as it might mean it'll be easier to get more jobs doing it." I seriously doubt he'll have any trouble getting work ever again, but I'm sure this helps somewhat.
And anyway, for all of you disappointed with the loss, there's always Season 3.
Check out Romper's new video series, Romper's Doula Diaries:
Watch full episodes of Romper's Doula Diaries on Facebook Watch.