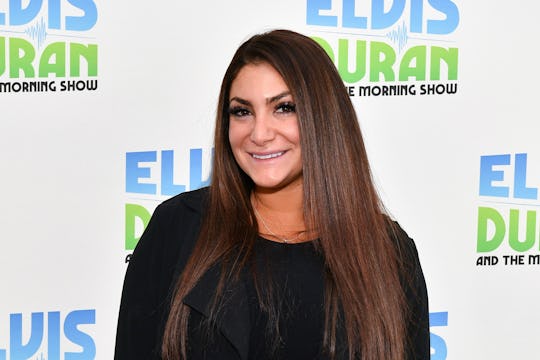 Dia Dipasupil/Getty Images Entertainment/Getty Images
Deena Cortese Shares 3D Ultrasound Of Her Baby Boy, & It's So Sweet
Any parent-to-be will tell you that a sonogram is more than a keepsake — it's a way to bond with your baby before they're born. If you're a first-time parent, you're going to want to show the image off to everyone you meet. Or, if you're a certain reality TV star, post it to social media: Recently, Jersey Shore's Deena Cortese shared a 3D ultrasound of her baby boy, and it's just the sweetest post ever.
Cortese took to Instagram on Friday morning to show her followers a sonogram of her unborn son with husband Chris Buckner, who she married in October. The 31-year-old reality TV star wrote in her Instagram caption, "We already love you so much."
The mom-to-be's Instagram post is pretty special, too. Although Cortese has kept fans in the loop with regular pregnancy updates, this is the first ultrasound she has shared to social media since announcing that she and Buckner are expecting their first child. And her Instagram followers are just loving the 3D sonogram of baby meatball, with one Instagram user writing, "[A]www such a blessing Deena. It's amazing these 3D & 4D ultrasounds. I'm so happy for you and your Hubby. Be well and congratulations!!"
Another follower commented, "Perfect. I'm so excited for y'all. You are going to be a wonderful mother," while someone else said, "Awww... Congratulations on your new lil meatball!!!"
Cortese's sonogram post racked up more than 111,000 likes and hundreds of comments as of Friday afternoon.
The Jersey Shore cast member is currently enjoying her time at home in New Jersey while her fellow costars are filming the first-half of the second season of MTV's Jersey Shore: Family Vacation, according to Life & Style. Right now, Jenni "JWoww" Farley, Nicole "Snooki" Polizzi, and gang are on location in Las Vegas, but will return to the East Coast for the second half of season two, Life & Style reported.
Cortese told the magazine about her decision to stay home:
I just decided not to go to Vegas because it was my first trimester and that's like, the most crucial. And then, between the flight and when they were going, I was going through my main tests and stuff. So it was my choice not to go.
It was a choice her buddy JWoww supported fully, telling Life & Style, "It's also Vegas, nobody pregnant should be there."
Farley continued, according to Life & Style:
It was 108 degrees. I hit her up, I was like, 'You can't be here, it's too [hot].'
Plus, Cortese explained, she's happy she made the decision to not go to Las Vegas not only because of the pregnancy, according to Life & Style, but also "morning sickness, and then having to deal with Ron's bullsh--t?" "I would've been done," Cortese told the magazine.
So what BS is the Jersey Shore star referring to? Well, fellow cast member Ronnie Margo has a rocky relationship with his girlfriend, Jen Harley, and their issues often play out in front of the cameras and on social media. In one episode of Family Vacation, for example, Margo who shares a daughter, Ariana Sky, with Harley, cried over "crossing the line" with another woman at a club, and his lingering feelings for his ex, former Jersey Shore star Sammi "Sweetheart" Giancola, who he dated for seven years, according to People. Those problems would have, no doubt, caused Cortese undue stress.
Jersey Shore: Family Vacation drama aside, though, it's clear Cortese is living her best life right now, and can't wait to welcome her baby boy into the world. But the 31-year-old mom-to-be won't be gone from Jersey Shore for long: Cortese plans to return to the MTV reboot once the gang's back in the Garden State.