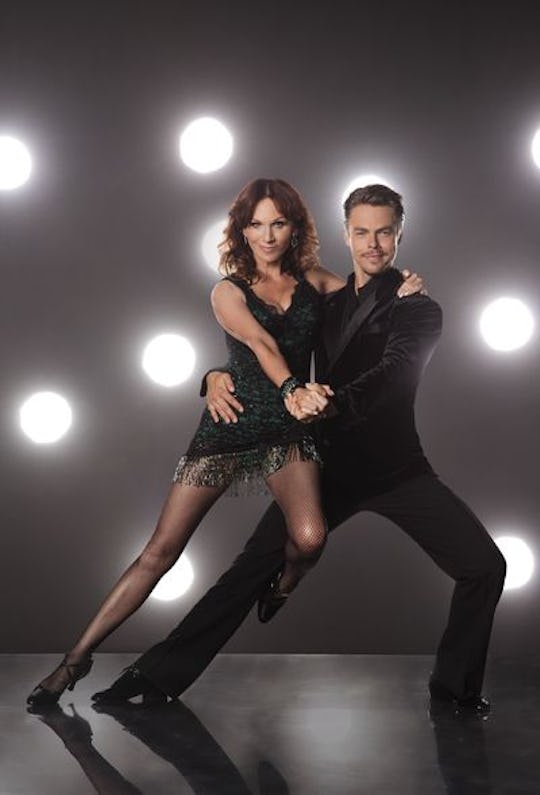 Craig Sjodin/ABC
Derek Hough Returns To 'Dancing With The Stars' & Marilu Henner Is As Excited As Everyone
Dancing With the Stars premiered its 23rd (wow) season on Monday night, and it started off with one hell of a bang, with a fast-paced and bedazzled jive from Marilu Henner and Derek Hough. Yes, you heard that right. Derek Hough returns to Dancing With the Stars and Marilu Henner is as excited as everyone else. In her opening interview, Henner said that her favorite of the pro dancers was Derek Hough, though, sadly, he wasn't doing the show anymore. She wasn't disappointed for long though.
When Henner opened the door to find her partner, her golden-haired dancing idol, Derek Hough himself, she shrieked and jumped up and down and clapped her hands as I imagine all of us would do if in the same position. Henner compared her partner to a god not once, but twice in the short segment, saying "He's a god" and then when listing off all of the men he reminds her of, including Sting, "I was going to say Jesus but..."
Don't worry, Marilu, we get you. The pair jumped right into the action with a jive so energetic I'm still a little dizzy, and earned themselves a very respectable 27 points out of 30. Not bad guys!
Henner should be glad to note that she is definitely not the only one losing her damn mind about the return of Hough. Twitter, for example, is doing a collective happy dance that Hough, and his sister Julianne Hough, have returned to the Dancing With the Stars stage.
Hough was missing from last season of Dancing With the Stars, as he was busy playing Gene Kelly's role in Singin' in the Rain on Broadway. This will be his 17th season of doing the show, and he has already won the coveted Mirrorball Trophy a whopping six times. Should he and Henner take it all the way, this would make it a lucky number seven.
The world in general is thrilled to see Hough back in action, though probably no one is quite as excited as Henner. At least according to ET, the pair could be an early favorite to take home the whole thing. We'll have to wait and see, but for now, at least they have the enthusiasm.