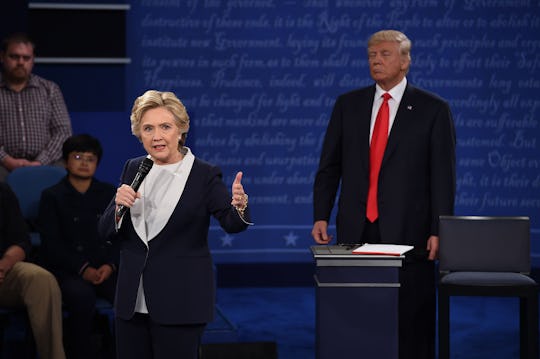 ROBYN BECK/AFP/Getty Images
Did Clinton Get More Time To Talk Than Trump At The Second Presidential Debate?
When they first met at their second presidential debate Sunday night, Hillary Clinton and Donald Trump did not shake hands. It was a striking moment, emblematic of the animosity that has grown between them as Election Day looms. It was by no means, though, particularly unexpected — and considering that Trump went on to display an undeniable childishness throughout the town hall-style affair, it felt more and more justified on Clinton's part. Between audible and near-constant sniffs, Trump called his opponent the "devil," threatened to have her jailed if he wins, lurked behind her onstage, and, perhaps most notably, repeatedly harangued the moderators for allowing her more time to speak than him. But the results are in, and it turns out that Clinton didn't get more time to talk than Trump.
"It's three against one," Trump complained at one point, insinuating that the moderators, CNN's Anderson Cooper and ABC's Martha Raddatz, were somehow colluding with Clinton as they ensured that both candidates stuck to their allotted two minutes to respond to questions. In fact, the Republican nominee spent so much of his time acting out a put-upon routine that he actually edged the former secretary of state in speaking time. According to a CNN tally, he addressed the audience of undecided Missouri voters for 40 minutes and 10 seconds to Clinton's 39 minutes and five seconds.
Trump has hinged his candidacy, in part, on the fact that he is a political outsider, consistently promising his base that, as president, he would shake up the status quo that he believes Clinton holds so dear, apparently by eschewing political correctness and daring to utter the phrase "radical Islamic terrorists." And a major component of that strategy is to fuel the narrative that the establishment, including the mainstream media, is out to get him. That's why, in August, he recklessly claimed that he believes that, if he loses the White House to Clinton, it will be because the election was rigged against him — a statement that could threaten the peaceful transfers of power that are a hallmark of democracy itself.
By making a show of perceived unfair treatment from the moderators, regardless of whether he actually felt disadvantaged by the limits placed on his time to talk, Trump attempted to similarly insulate himself against failure. This is a man who is nearly universally recognized as having been eviscerated during the first debate last month — and also one who knows that if he can in any way delegitimize the proceedings, he won't have to accept the inevitable outcome of a subpar performance.
"Why don't you interrupt her?" Trump asked Raddatz during one testy exchange. "You interrupt me all the time. Why don't you interrupt her?"
The moderators did, in fact, attempt to cut off Clinton when she went over her two minutes, just as they did Trump. But they didn't have to referee her nearly as much when it came to debate decorum: Vox reported that while Trump interrupted Clinton 18 times during the debate, which featured questions from the audience as well as the moderators, she cut into his speaking time only once, and that came when Trump attempted to pin culpability for Syrian President Bashar al-Assad's use of chemical weapons in the country on her. "First of all, she's there with the so-called line in the sand," Trump said.
"No, I wasn't. I was gone," Clinton responded, pointing out that she was not in office at the time. "I hate to interrupt you, but at some point we needed to do some fact checking."
Trump showed during the second debate, though, that's he's perfectly content to ignore facts entirely (he again falsely said that Clinton started the racist birther movement that he championed; he again falsely stated that he was against the war in Iraq from the beginning). He also took every chance he got to propagate the lie that — because he wasn't the recipient of the unbridled privilege that's colored his life so far — he was somehow being cheated. What Donald Trump doesn't understand is that the president of the United States of America doesn't get to take any shortcuts while on the job, and that's one of the many reasons that the road to getting there is fittingly arduous. For Trump, just following the rules without constantly challenging them proved to be a nearly debilitating roadblock.