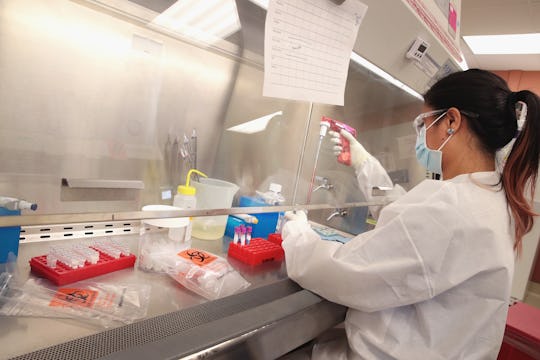 Scott Olson/Getty Images News/Getty Images
Did FSU Find A Zika Treatment? Researchers Have Made A Breakthrough
In an effort to find the fastest way possible to develop an effective treatment for Zika, researchers have made a breakthrough. Monday, researchers from Florida State University and Johns Hopkins University published their findings that there are existing drugs that can fight the Zika virus. Did FSU find a Zika treatment? It looks promising, but there will need to be additional tests.
According to the Orlando Sentinel, the researchers have found drugs that are already FDA approved, like Nicolsamide, which is used to treat tapeworm, doesn't just appear to stop the virus from replicating, but it also protects fetal cells.
"This could theoretically be prescribed by a doctor today, though tests are still needed to determine a specific treatment regimen for the infection," according to a statement from FSU. This would be welcome news to young women of child bearing age concerned about the link between contracting Zika while pregnant and the child developing microcephaly, a catastrophic birth defect leaving babies with extensive brain damage.
"We focused on compounds that have the shortest path to clinical use," FSU Professor of Biological Science Hengli Tang said in a statement. "This is a first step toward a therapeutic that can stop transmission of this disease."
The researchers screened more than 6,000 compounds either already approved by the FDA or in clinical trial.
Florida is ground zero for Zika in the United States. According to the Miami Herald, there have been local Zika infections reported in Miami-Dade, Palm Beach, and Pinellas counties.
"There are only two areas in the continental United States where mosquitoes are actively spreading Zika: a one-square-mile section of Miami's Wynwood neighborhood, and a 1.5-square-mile zone in Miami Beach," the Herald reported.
The World Healthy Organization says more than 1,845 babies have been born across Brazil with microcephaly-related birth defects and that there are nearly 600 pregnant women with Zika in the United States, according to the Centers for Disease Control. The Hill added that, if you include the U.S. and its territories, more than 11,000 people have already been infected with Zika.
This new number comes as evidence is emerging that Zika doesn't just cause long-term damage to pregnant women and their babies, Zika, according to TIME, has also been linked to hearing loss.
In the meantime, as Zika continues to spread and researchers race the clock to find a cure, Congress has yet to vote to approve funding to fight the Zika virus, opting instead to take their scheduled seven-week summer vacation, according to The Hill.
Let's hope these researchers and their work are poised to save the day.