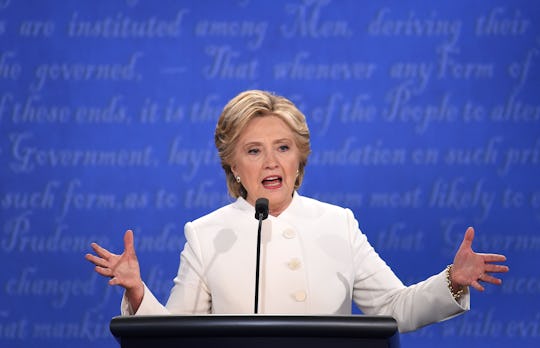 ROBYN BECK/AFP/Getty Images
Did Hillary Clinton Pay People To Riot In Chicago? Trump Claims She Did
During the final presidential debate, Republican presidential nominee Donald Trump made a passing statement that fueled theories that a riot at one of his Chicago rallies was really a conspiracy helmed by Democratic presidential nominee Hillary Clinton. So, did Hillary Clinton pay people to riot in Chicago? Some people certainly believe she did, and at Wednesday night's last debate, Trump claimed that she did. Romper reached out to both candidates for comment on the claim, but did not hear back at the time of publication.
While going after Clinton and her campaign during the contentious final meeting before the election, Trump said, "So sad she talks about violence at my rallies, and she caused the violence." Although he didn't have the time to explain, it seemed Trump was alluding to recent reports that Zulema Rodriguez, the activist who took credit for starting a riot at a Trump rally last winter, was paid by the Clinton campaign.
Conservative website The Daily Caller looked into the campaign records available on the Federal Election Commission and found that Rodriguez was paid by the Clinton campaign just weeks before the Chicago incident. Reporter Blake Neff said, "The campaign paid her $1,610.34 as a 'payroll' expense, and also gave her a $30 payment that is described only as 'phone.'"
In another recently released video, Scott Foval formerly of the Americans United for Change bragged about hiring people to disrupt Trump's rallies. In the undercover tape, he said, "The key is initiating the conflict by having leading conversations with people who are naturally psychotic... I mean, honestly, it's not hard to get some of these assh*les to pop off."
He went on to claim he was "directly contracted" by the Democratic National Committee and Clinton. "So the Chicago protest, when they shut all that, that was us," he added. "None of this is supposed to come back to us because we want it coming from people; we don't want it to come from the party."
Those recent reports have caused many Trump supporters to cry foul at Clinton —and the media coverage of it all.
During the incident in March, Trump's campaign was forced to postpone the rally after protestors and police clashed outside the University of Illinois at Chicago. Two police officers were injured at the event. At the time, the Trump campaign said in a statement:
Mr. Trump just arrived in Chicago, and after meeting with law enforcement, has determined that for the safety of all of the tens of thousands of people that have gathered in and around the arena, tonight's rally will be postponed to another date.
During the final debate, Clinton did not respond to Trump's claim she incited the violence in Chicago, and he didn't press her on the matter after that one statement.