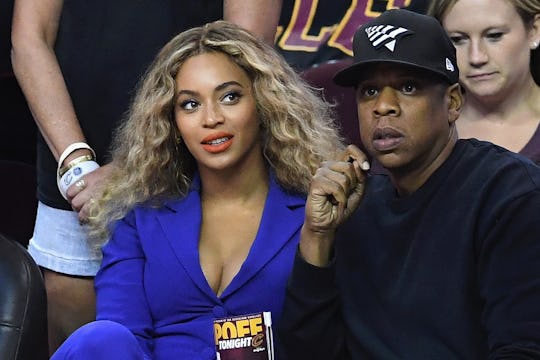 Jason Miller/Getty Images Sport/Getty Images
Do Beyonce & JAY-Z Want Even More Kids?
Beyoncé and JAY-Z have yet to drop what can only be another epic announcement about their twins' arrival and the world can hardly wait for that glorious moment. But now that two more Carter children have been born, some fans are already wondering whether Beyoncé and JAY-Z want more kids in the future and how many they'd like to add to their adorable family. (Yeah, seems a bit soon to ask that question, but maybe it's a testament to just how many people like them?)
While the 35-year-old superstar is still reportedly in the hospital with her new little ones, Beyoncé has said in the past that she wanted to give her 5-year-old daughter Blue Ivy some siblings. Just how many she had in mind is still up in the air.
"I would like more children," Beyoncé told ABC News in 2013. "I think my daughter needs some company. I definitely love being big sister [to Solange]."
She echoed these same desires to expand her family during an interview with The Mirror that same year. "Definitely I would like to have more children," she said in May 2013. "Motherhood has changed everything. You see things a bit differently after you give birth and my biggest job now is to protect my child."
As for JAY-Z, he's also revealed that he would love to have more children one day. And if he has his way, the world will be totally content in the celebrity baby department. During an interview with Hot 97's Angie Martinez in July 2013, the now 47-year-old rapper joked that he'd like to have "a little basketball team" of children, according to Us Weekly. "Absolutely, God willing," he said at the time when asked if he wanted more children. "The world would be a better place." Honestly, he couldn't have said anything more accurate.
Meanwhile, Queen Bey also once addressed how many she has in mind. In February 2013, the singer told Vogue that at one point in her life, she wanted four children, but there was also a time when she wasn't sure if she wanted kids at all.
"When I was younger, there were moments where I said, 'I'm not going to have children,'" Beyoncé told Vogue. "And then moments when I wanted four. And now I definitely want another, but I don't know when."
Of course, it's been more than four years since they both expressed their desires to expand their family and a lot of things can change in that amount of time. But, they also haven't publicly taken the idea of having more kids off the table. So, really, anything is possible and fans may very well have to prepare for another whirlwind round of glamorous posts of Bey's bump and exciting news.