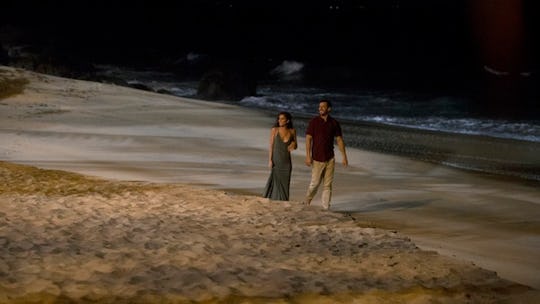 Paul Hebert/ABC
Kids May Definitely Be In Taylor & Derek's Future After 'Paradise'
The ink is barely dry on the Bachelor in Paradise filming contracts, but there's no time like the present to speculate on some of the season's biggest couples, namely Taylor and Derek. The couple managed to make a legitimate connection this season and it looks like they might even be getting engaged on the Bachelor in Paradise finale. So since they're likely about to start their life together, do Taylor and Derek want kids after Bachelor in Paradise? The duo would make some beautiful babies and they both seem to really value family.
Since more than one media outlet has reported that Derek and Taylor get married on the Bachelor in Paradise after show, it's probably safe to assume that they're part of the proposal teased in the preview. Of course, without even a confirmation from the couple just yet it's hard to say what their wedding plans are, much less plans for their future kids together. But since they both seem to come from tight knit families and value those relationships, I wouldn't be shocked to discover that Taylor and Derek want kids in the future. (Though if they don't want kids, that's totally their right as well.)
Unfortunately, neither Taylor or Derek's Bachelor or Bachelorette bios provide us with much insight into the matter, but the proof of their future family together may be found in their respective Instagram profiles.
Judging by his Instagram, Derek seems to be really close to his younger sister, as well as the rest of his family. They even took a Christmas photo and basically made a digital Christmas card with their parents. As adults. And it's pretty adorable.
And when Derek's grandpa died back in 2016, he took to Instagram to post lots of heartfelt words and photos dedicated to his grandpa's memory, including some images of them together. If Derek values family this much, then having kids is likely on the docket for him.
To the same tune, Taylor seems like she's super close to both of her parents and in that respect, her and Derek's families should blend well together. Obviously you can be from a large, close family and not want kids for yourself at all, but if Taylor and Derek's relationships with their parents and other family members are any indication, they could want kids sometime in the future to help expand their families even further.
Taylor, who was 23 when she competed on Nick's season of The Bachelor in 2016, went on the show to find love and eventual wedded bliss and for some, that includes starting a family someday. Although she might seem a bit young for all that just yet, clearly she's mentally ready for the serious commitment that marriage brings, so there are no worries there. Derek, who's almost 30 himself, is likely more than ready for that next step as well.
If Derek and Taylor are the couple who gets engaged on the Bachelor in Paradise season finale after show, then fans will no doubt hear about their wedding and plans for the future soon enough.
Check out Romper's new video series, Romper's Doula Diaries: