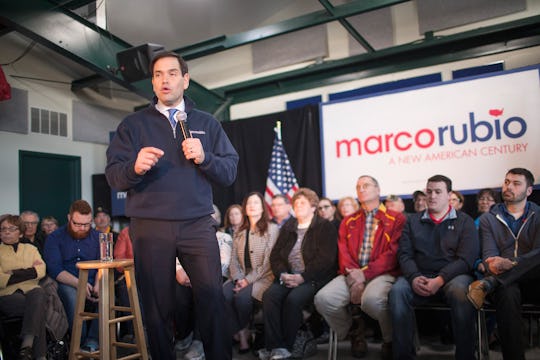 Scott Olsen/Getty Images News
Do You Have To Win Iowa To Become President? The Outcome Will Affect Voter Support
The Iowa caucuses — the first voting opportunity of the 2016 election — are on Monday, Feb. 1, and they're important for a couple of key reasons. This will be the first time voters get to cast a ballot in the presidential nomination race, and that's a big deal. But do you have to win Iowa to become president? Yes and no. Let me explain.
Pundits, the media, even the candidates themselves agree that Iowa is a big deal. As Vox reporter Andrew Prokop wrote, "Iowa became super important because we — the media, party insiders, activists, the candidates themselves, and even voters to an extent — gradually decided to make it so important."
According to The Week, the Republican caucuses are different from Democratic caucuses in that each party has its own rules for what goes down at a caucus (for example, Democratic ballots are not cast in secret, while Republicans' are). Never been to a caucus? Then you're like the majority of the country. And even in celebrated caucus states like Iowa, turnout to these events is absurdly low for such a politically-hyped event, and there's a good reason: Caucus goers have to drive to the location of their precinct, listen to speeches, and, for Republicans, cast a vote. But Democrats have to drive, listen to speeches, and then physically stand in the corner of the room that represents their candidate. Voters whose candidate doesn't receive the required 15 percent of support have to stand in their second choice candidate's corner. It's a lot of work.
In 2008, The Week reported, turnout at the Democratic caucus "rocketed" up to 16 percent from 6.8 percent, largely in part because of then-Illinois Sen. Barack Obama's electric campaign to get new voters out to the polls. Voters who do attend a caucus will likely hear some speeches, engage in some friendly or not-s0-friendly debate, and most importantly, get people revved up about the candidates they do and don't support. Part of what makes a caucus different from a primary is that there's a chance for exchange between voters in a caucus, which is kind of like a political social gathering. In reality, caucuses are good for momentum, or so reported Newsy.
That's why candidates are making an extra push to get voters to the caucuses, literally; the hashtag #CaucusFinder will help Iowans find the location of their candidate's caucus.
Voters can even test their political knowledge by playing an Iowa caucus trivia game on Twitter:
There's even such a thing as "Iowa Envy," which a Brooklyn voter wrote about in The New York Times.
Before Iowa, all the candidates, the public, the media, and the pundits have had to rely on are polls. Polls are notoriously inconsistent and mercurial. Come Monday, the media will go nuts with the outcome of the first recorded indication of who people want representing their party for president.
Certainly, according to Vox, a win in Iowa doesn't guarantee a seat in the Oval Office, or even the party's nomination. For example, in the 2008 Republican caucuses, Mitt Romney came in second and John McCain came in fourth. This year, the big question on everyone's mind, whether you're a part of the GOP or not, is whether real estate mogul Donald Trump will actually get people to vote for him.
Iowa, you see, is all about perception, and ever since the state moved its contest to the fore of the election season in 1972, it's become somewhat of a political legend. After all, why is Iowa (a rural, not particularly racially diverse, middle-America) state representative of the American electorate?
Expect to see somewhat of a domino effect happen. If a candidate does well at Iowa, donor support will increase. That means more campaign money, and more national ad coverage. Then, voters can also expect to see a surge in those mercurial polls, and candidates will start making decisions about how to run their campaigns. See, momentum. The caucuses build it, the candidates can't afford not to play along (neither can the press), and so goes the political machine that will send one person to emerge from these contests, victoriously to the White House.