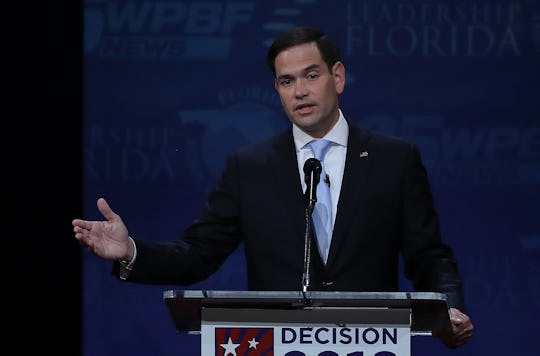 Joe Raedle/Getty Images News/Getty Images
Does Mark Rubio's Senate Win Mean He'll Run For President In 2020? It's Anyone's Guess
With nearly a quarter of the nation's polls closed Tuesday, early calls and final election night results have already started trickling in. While the big vote Tuesday is sure to be the presidential race for the White House, there are also 469 seats in Congress up in battleground states across the country. Although Florida Sen. Marco Rubio won't make it to the White House after his failed presidential bid, it's not clear that he will be walking the halls of Congress on Capitol Hill once again, after winning re-election in his home state, according to the Associated Press. But does Marco Rubio's Senate win mean he'll run for president in 2020? Rubio has not yet commented publicly on his Senate win, nor any presidential aspirations ahead in the next four years, so for now, it's anyone's guess.
Rubio announced his presidential run all the way back in April of last year — which sidebar, I guess this really has been an endless campaign season — but after a crushing GOP primary loss to Donald Trump in Florida, Rubio dropped out of the presidential race entirely. He left his constituents waiting for nearly three months about whether or not he'd seek re-election for his Senate seat. In June, the 45-year-old junior senator announced he would run for re-election. According to FiveThirtyEight, Rubio beat Democrat Patrick Murphy in a hard-fought race, winning 58 percent of the vote.
At the Senate seat debate in October, Rubio said on stage, "I'm going to serve six years in the United States Senate, God willing, and I'm looking forward to it." While Rubio said publicly he was committed to serving a full Senate term, he noticeably didn't say anything about possibly running for president in 2020. But perhaps voters shouldn't hold out their hopes: The day prior to the debate, Rubio spoke on 970 WFLA radio that he wasn't planning on running in four years.
If I wanted to run for something else, I wouldn't have run for Senate. My opponent keeps saying I'm gonna run for president. If I wanted to run for president in four years, I would have just stayed out of this race and started running on November the 9th, which a lot of other people are going to do. I wouldn't have run for re-election at the last minute in the toughest swing state in the country, in a year as uncertain as this one.
Of course, no one will know for sure until Marco Rubio himself announces a potential presidential run, and on election night, it seems he's more focused on basking in his Senate seat victory.