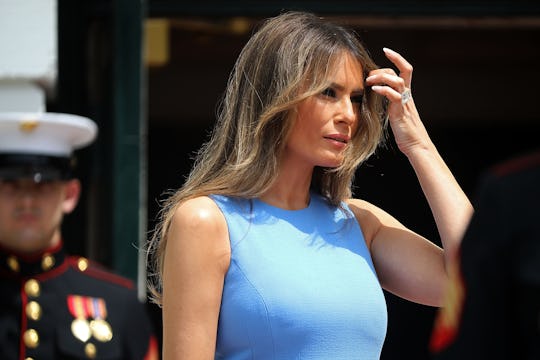 Chip Somodevilla/Getty Images News/Getty Images
Melania Trump Is Filling Out Her White House Office Roster
Now that Melania Trump has moved to 1600 Pennsylvania Avenue, there are still a lot of questions about what she plans to do with her role as the first lady of the United States and where she'll spend most of her time in the White House. Historically, other first ladies have had their own offices and staff with their own responsibilities in the East Wing of the presidential complex. So, does Melania Trump also have her own office in the White House and what type of initiatives will she take on?
Until recently, the first lady's office had been virtually pretty empty because she had been staying in her Trump Towers penthouse in New York City until her and President Donald Trump's youngest child, Barron Trump, finished the school year. And it's still relatively quiet since she's only reportedly hired a small handful of staff so far, including her chief of staff, a communications director, a social secretary, and a senior adviser. According to USA Today, her staff now numbers around 10, although it's not entirely clear which positions have been filled. Still, it's a much smaller group than the prior East Wing office led by Michelle Obama, who had 24 staffers.
While it's not required for first ladies to work out of the East Wing of the White House with their own staff of federal employees — traditionally, they acted as a hostess and took on domestic responsibilities — the role has considerably grown over the past few decades. Prior first ladies Laura Bush, Hillary Clinton, and Mrs. Obama all started their own initiatives, such as improving literacy, international women's rights, and childhood obesity, respectively.
As FLOTUS, according to the White House, Trump plans to focus her platform on the "problem of cyber bullying among our youth." But, as of last month, it doesn't appear that she and her team have done much to get started on it — something she pledged to tackle while on the 2016 presidential campaign trail.
According to USA Today, leaders and activists in anti-cyber bullying efforts have reportedly said that neither the new first lady nor her East Wing staff been in touch with them, despite offers to help get them started. "Mrs. Trump is being very thoughtful when it comes to building out her initiatives," press secretary Stephanie Grisham told USA Today of the current progress of the anti-cyber bullying effort.
Mrs. Trump hasn't necessarily hit the ground running like former first ladies have since her husband was sworn into office in January. And even though she's physically in the White House now, she and her initiatives still remain rather elusive and out of headlines. But, she does have the resources to be involved. So, as they say, better late never.