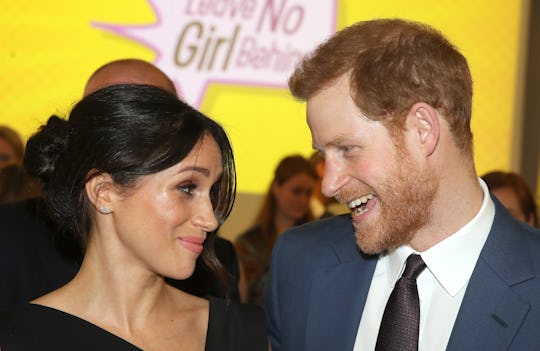 Chris Jackson/Getty Images Entertainment/Getty Images
Prince Harry's "First Look" At Meghan Markle At The Royal Wedding Is Rather Traditional
We were all on pins and needles awaiting the event of the year: the royal wedding of Prince Harry and Meghan Markle. If you're a proper royal wedding fan, you were probably been up since the early hours of the night, getting a British breakfast going for a sunrise watch party. And one moment you were waiting for, and wondering, may have been if Prince Harry saw Meghan Markle before the wedding. The answer makes them seem pretty relatable.
Prince Harry didn't see Meghan Markle before the wedding. There wasn't a "first look" and the tight schedule didn't allow for any departures from the royal itinerary to sneak a peek at the bride as she was getting ready. Despite the fact that Meghan and Harry live together in Nottingham Cottage on the grounds of Kensington Palace, according to People Magazine, they didn't see each other until they met in St. George's Chapel.
Thank goodness for the royal family's website, Royal.uk, for keeping us all up to date on the latest in wedding planning news from behind the castle walls so that we could be prepared. They explained, prior to the event, that around the same time the Royal Family would be arriving at Windsor Castle for the wedding, the media would be following "Ms. Markle and Ms. Ragland's departure from the bride's overnight location." That sentence right there is actually our key indication that Meghan didn't have an opportunity to see Harry before the actual ceremony. Otherwise, it would've been blasted all over the news.
Meghan and Harry have both been living in a 1,300 square foot cottage on the grounds of Kensington Palace, where Prince William,Duke of Cambridge and Kate Middleton, Duchess of Cambridge, and their children live, and where Princes Harry and William lived with their mother, Princess Diana, when they were children. People reported that the cottage has two bedrooms upstairs and likely has only three rooms downstairs, as a typical Victorian cottage would have.
Nottingham Cottage is actually the place where Harry proposed to Meghan in November of last year, reported CNN. The news outlet explained that the couple chose to spend more time at Harry's cottage while they were dating in order to avoid media scrutiny. "They've avoided nights on the town, instead opting for evenings at home, away from the paparazzi and their prying lenses. In essence, they had to 'reverse the whole process,' the prince said," after their engagement.
When Harry proposed, Vogue reported that the royal couple was spending an evening in, roasting a chicken, as one does before essentially joining the royal family. Markle was admittedly surprised, and Harry wasn't even given a chance to finish before Markle asked if she could say "yes" yet. She did and they will — very soon!
Last night, Markle arrived at Cliveden House, the hotel where she stayed along with her mother Doria Ragland. An excellent choice: it's swanky, exclusive, and not too far of a drive from St George's Chapel where the wedding ceremony took place (People timed it at 25 minutes). And knowing how important the day of the royal wedding was, we doubt she ran into any rush out traffic.
Harry, on the other hand, stayed at a separate hotel about a half hour away from Meghan. Dorchester Collection's Coworth Park in Windsor, along with his big brother, William, reported People. The royal family's website earlier explained early on that "Prince Harry and his brother The Duke of Cambridge will arrive at St George's Chapel most likely by foot," which led us all to believe that he would be staying on the grounds of the castle, but it looks like that was not the case.
Now we know though, that while the royal couple was happy to toss some traditions aside, from opting for a more casual reception (passed hors d'oeuvres, anyone?) to setting up a registry that benefits various charities, not seeing each other before the ceremony was one tradition worth keeping.