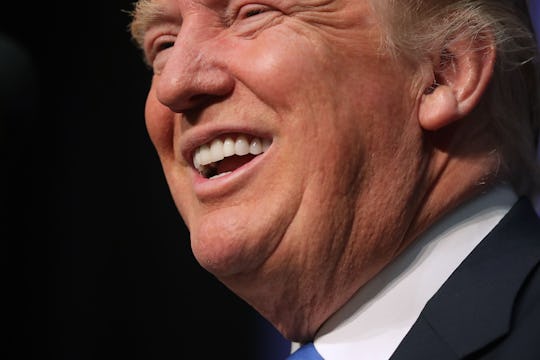 Chip Somodevilla/Getty Images News/Getty Images
Donald Trump Elected President & It's A Shock To So Many
To the surprise of many watching the U.S. election unfold across the country, Republican candidate Donald Trump was elected president during the early hours of Wednesday morning as the final ballots rolled in, defying every odd stacked against him. The news was unprecedented, marking the first time in over 50 years that a candidate with zero political experience has managed to reach the White House.
Before Election Day, Trump was sitting nearly two points behind Democratic nominee Hillary Clinton in polls, according to a RealClearPolitics average, and many expected the former Secretary of State would clinch the vote: a New York Times elections forecast put the likelihood of a Clinton win at 85 percent the week before the election. Instead, Trump pulled ahead on Election Day and snagged upwards of 50 more electoral votes than Clinton did, winning key states such as Florida, Ohio, Wisconsin, and North Carolina. At 2:41 a.m., Trump made it over the 270-elector threshold and won the presidency.
Things could change once electors cast their ballots at the Electoral College if electors went rogue, although chances are incredibly slim: in 240 years, there have only been 157 electors who have changed their vote (called faithless electors), and the margin between Trump and Clinton is likely too large to be overcome by a faithless elector or two (in the off-chance that any electors changed their mind this year). Also, in all of American history, a faithless elector has never actually switched the outcome of an election, according to Time.
Just before the announcement came that declared Trump the winner of the election and the new United States President-Elect, Democratic presidential nominee Hillary Clinton, on behalf of John Podesta, asked a packed stadium of fans and well-wishers to head from from the Javitz Center, where she was slated to give her acceptance speech, as "votes were still coming in." CNN noted just minutes later that Clinton had made the concession call to President-Elect Trump following the news that Trump had taken Wisconsin and was projected to also take Pennsylvania.
Though there are still so many unknowns after America elected President-Elect Trump on Wednesday morning, one thing is clear: If his plan is to "Make America Great Again," he'll need to start by unifying the pieces of the country his campaign helped tear apart.