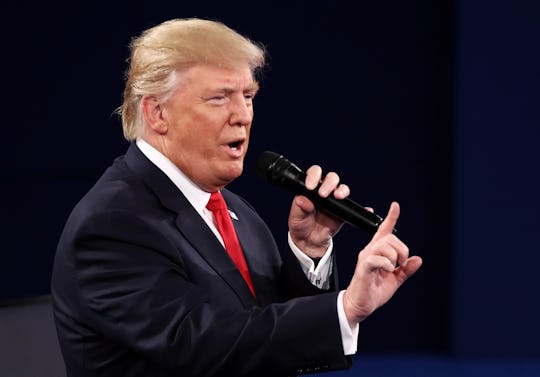 Win McNamee/Getty Images News/Getty Images
Donald Trump Implies All POC Live In Inner Cities & It's Proof He's Removed From Reality
The second presidential debate was poised to be the most contentious yet, and it didn't take more than a few minutes for most viewers' assumptions to be proved correct. While Republican presidential nominee Donald Trump's leaked Access Hollywood tapes were one of the first topics to be discussed, it arguably wasn't the worst, most offensive thing to be said by Trump during the debate. Donald Trump implied all POC live in inner cities, proving that he is removed from reality and beholden to outdate social and racial stereotypes.
This wasn't the first time Trump has alluded to people of color and the communities in which they live. His depictions of Black America have been offensive at best, going so far as to say Black people's neighborhoods are "war zones," and asking Black people to vote for him because, after all, "what do you have to lose?"
Little does Trump know — or just refuse to admit — is that many Black Americans do not live in poverty or "war zones" or inner cities. In a 2000 census, an estimated 46 percent of Black people own their own homes. According to a 2010 census, the black population living in the biggest city of any given metropolitan area decreased in all 20 of the nation's largest metro areas in the past decade. The trope that all Black people live in "squaller" is uneducated at best, and racist at worst; a label Trump has been actively fighting against throughout this campaign, yet a label that has continually been thrust upon him thanks to his unfounded and stereotype-fueled comments.
Back in August for this year during a political rally in Virginia, Trump told Black people (while speaking to a predominantly white crowd), "You're living in your poverty, your schools are no good, you have no jobs, 58 percent of your youth is unemployed." In response to Trump's descriptions of Black America, Alexis Scott, a former publisher of The Atlanta Daily World, told The New York Times, "I hear him not talking to black people, but talking to white people about black people so they will think he cares about black people."
The danger in Trump's assumptions, and rhetoric in general, weren't lost on viewers. Many took to Twitter to voice their concern about Trump's assumptions of not only Black people, but the way in which Black people live in the United States.
Trump has repeatedly called himself a "unifier" and claimed he will "unify the country," however he doesn't seem to understand the 13 percent of Americans who are Black or African American. Until he does, it's nothing short of absurd to think that he can lead an entire country fairly, justly and successfully.