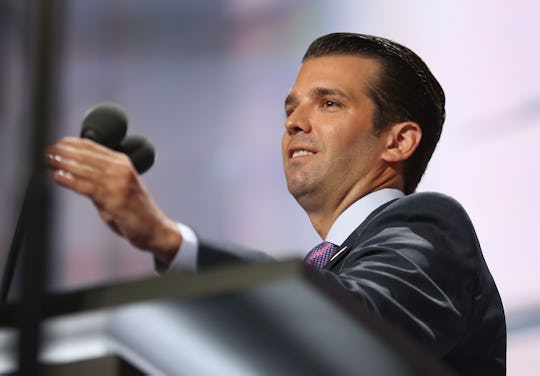 Joe Raedle/Getty Images News/Getty Images
Donald Trump, Jr. Is A Big Reason The NRA Loves His Father
When it comes to presumptive Republican nominee Donald Trump's relationship with the National Rifle Association, things are looking pretty healthy — in large part due to Trump's eldest son, Donald Trump Jr. His Instagram profile is an ode to guns and hunting, and while his father has been campaigning, Trump Jr. has had successful meetings with the NRA on his family's behalf.
Trump Organization executive vice-president Trump Jr. is, after all, a staunch defender of the Second Amendment and a proud gun bearer. Judging by his father's comments at the NRA Leadership Forum in May, Trump Jr. is also a great, personal example Donald Trump can use to win over the NRA. "My sons have been members of the NRA for many, many years, and they're incredible — they have so many rifles and so many guns, sometimes even I get a little bit concerned," he joked at the forum, according to The Washington Post. "I say: 'That's a lot.'"
But Trump Jr. and Eric are effective NRA advocates. In May, the Trump brothers caught plenty of heat when pictures of emerged of them on an African safari, posing with the bodies of wild animals they had shot and killed. Trump Jr., however, wasn't concerned. He defended his choice to hunt, saying he had the "utmost respect for nature," according to E! News.
But Trump Jr. turned what could have been bad publicity into an opportunity to campaign for his father. Trump Jr. has used his love of hunting to bridge the relationship between Donald — whose Republican values have, at times, been called into question — and the NRA, whose Republican values have likely never been questioned. Soon after Donald Trump spoke at the NRA's national convention, the NRA Institute for Legislative Action's executive director, Chris Cox, invited members of the Congress to join him and Trump Jr. for a "small roundtable discussion."
According to CNN, Trump Jr. told the 15 House Republicans that assembled for the discussion that Donald was committed to ensuring future Supreme Court appointments upheld gun rights. As his father's proxy, he reportedly said he was "probably not your typical Second Amendment fighter, being the son of a rich guy from New York City" — but Rep. Chris Collins, who attended the meeting, implied Trump Jr. was an effective representative for Donald.
It's a relationship that's worked out well for all involved: The NRA endorsed Donald Trump; Trump Jr. has joked about working for the Department of Interior during a potential Trump presidency; and the NRA has found a presumptive nominee that supports their goals that U.S. citizens get as unrestricted access to firearms as possible. With Trump Jr. working as his proxy, it's been a win-win situation between the Trump family and the NRA.