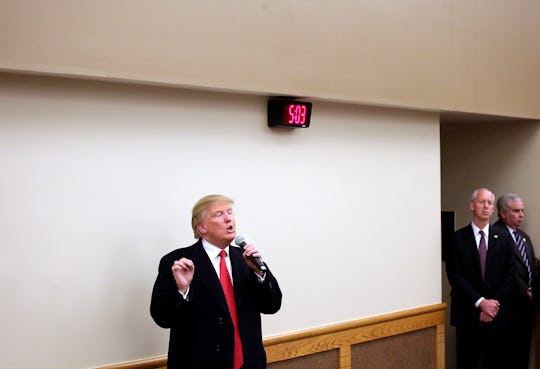 Joshua Lott/Getty Images
Donald Trump "Likely" Won't Attend GOP Debate — REPORT
During a press conference in Marshalltown, Iowa on Tuesday, Republican presidential front-runner Donald Trump stated he "most likely" would not attend Thursday's GOP debate, which is slated for 9 p.m. ET and will be hosted by Fox News. The billionaire mogul's comments come on the heels of several major endorsements for the Trump campaign, including Tea Party darling and former Alaska Gov. Sarah Palin; Maricopa County, Arizona Sheriff Joe Arpaio; and evangelical Liberty University president Jerry Falwell Jr. During Tuesday's heated press conference, Trump insinuated that the decision was based on Fox News' refusal to pull lead anchor Megyn Kelly from the moderating seat.
"I probably won't bother doing the debate," Trump said. "Most likely, I'm not going to do the debate." According to The Guardian's Ben Jacobs, Trump then added that he was probably "going to have something else in Iowa, something simultaneously with the debate."
By late Tuesday evening, Trump campaign manager Corey Lewandowski had confirmed the news, telling The Washington Post's Philip Rucker that Trump would "definitely not" participate in the debate. "His word is his bond," Lewandowski said.
The ongoing feud between Trump and Fox anchor Kelly has been escalating in recent weeks, following the release of Kelly's Vanity Fair cover story earlier this year.
In the article, Kelly recalled receiving media clippings with handwritten congratulatory notes in the margins from Trump himself, early in the 2016 campaign season. "I didn't know why he was doing that. And then when he announced that he was running for president, it became more clear," she said. "But I can't be wooed. I was never going to love him, and I was never going to hate him."
In a response to Kelly's comments in the article, Trump that week took to Twitter to blast the anchor's appearance and her appeal to the opposite sex. "@megynkelly recently said that she can't be wooed by Trump," he tweeted angrily. "She is so average in every way, who the hell wants to woo her!"
More recently, Trump told the crowd at Tuesday's press conference that Kelly was a "third rate" reporter and that the anchor was a poor choice to host the last primary showdown in Des Moines before the crucial Iowa caucuses.
"I'm not a fan of Megyn Kelly, she's a third rate reporter," Trump said, according to The Hill. After calling Kelly a "lightweight", Trump added that the news network was trying to "play games" with him. "I think she frankly is not good at what she does and I think they could do a lot better than Megyn Kelly ... I don't know what games Roger Ailes is playing or what's wrong over there."
Despite claiming that he would not attend the event on Thursday, Trump's staff did receive a daring invitation from rival candidate Ted Cruz, who challenged Trump to engage in a one-on-one debate instead. "If [Trump] thinks Megyn Kelly is so scary, what exactly does he think he'd do with Vladimir Putin?" Cruz quipped to conservative radio host Mark Levin on Tuesday. "I think that is something that the men and women of Iowa deserve, they deserve candidates who are not afraid of the hard questions."
Images: Joshua Lott/Getty Images; Chip Somodevilla/Getty Images, Craig Barritt/Getty Images for Cosmopolitan Magazine and WME Live