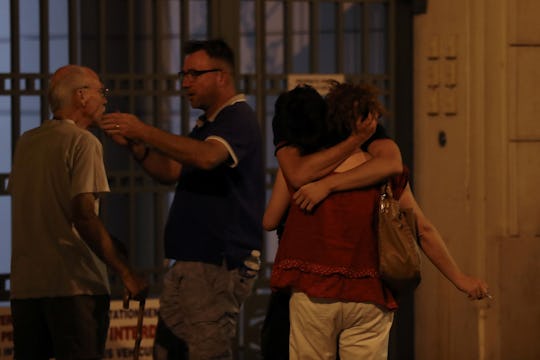 VALERY HACHE/AFP/Getty Images
Donald Trump Responds To The Bastille Day Crash, Asking 'When Will We Learn?'
During what was supposed to be a day of joy and celebration, a driver of a truck intentionally rammed into a crowd during Bastille Day in Nice, France, killing at least 60 people and injuring a feared 100 more, according to The Telegraph. What has already proved to be a deadly year, waiting for politicians to respond to senseless acts of violence has become somewhat of a routine. Donald Trump responded to the Bastille Day crash, now being described as a terrorist attack, tacking to twitter to point out that there were, "many dead and injured" and asking, "When will we learn? It is only getting worse."
Update: French President Francois Hollande announced Friday that the death toll had risen to 84 and at least 50 people were in critical condition "between life and death," according to ABC News.
Trump followed up his initial tweet by postponing his highly-anticipated news conference in Manhattan, in which he previously said he would be announcing his running mate and pick for potential vice president. News leaked, earlier on Thursday, that Trump was planning on naming Mike Pence as his running mate, the Republican Governor from Indiana. Clearly, the massive loss of life is more important than who Trump may or may not be picking as his possible vice president, and it's surprisingly refreshing that Trump would mirror the same sentiment. Sadly, we can look to other moments of senseless violence and Trump's reactions, which have been more politically motivated than what one would describe as humanitarian.
More to come...