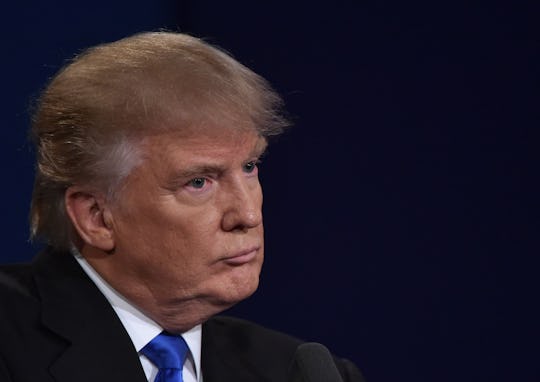 PAUL J. RICHARDS/AFP/Getty Images
Donald Trump's Body Shaming During The Debate Was Shameful
The first debate between the two presidential candidates was a heated affair. But it wasn't just the tension between the two candidates who visibly don't like each other or even the split-screen that seemed to make everything more intense. A lot of it was the sort of things that came out of Republican nominee Donald Trump's mouth. Especially when Donald Trump's body shaming during the debate just got a little out of hand, mocking a hypothetical hacker for being "400 pounds, sitting on his bed." Democratic nominee Hillary Clinton was calling Trump out for his relationship with Putin and for calling on hackers to look into Clinton's email scandal earlier this summer.
In his response, Trump sort of stumbled by saying that he didn't know who the hackers into the Democratic National Committee really were and for all he knew, it was some overweight human being sitting on their bed playing around. The adjectives about weight and the implication that an obese human being is some nobody who has nothing better to do should be offensive to voters. It was another example of Trump's insensitivity and brash mannerisms when talking about people who look different than him.
Trump's remarks on peoples' appearance has been a hallmark of his campaign and his bid for presidency. Clinton has been running attack ads against the Republican candidate highlighting the times that he mocked a disabled reporter, spoke on numerous occasions about females' appearance, and often trades insults based on physical appearance rather than talking about politics.
This time was no different. Later on in the debate, NBC News moderator Lester Holt asked Trump about his previous comments on Clinton's look. That led to Trump having to defend his comments in the past about how Rosie O'Donnell looked like a "pig" and how he thinks that Clinton's campaign ads are "not nice." The debate ended with Trump having to defend his statements about Clinton's look and "stamina" and it didn't go very well.
If Trump wants to seem more presidential in the next debate, he's going to have to watch his mouth. Not only did he joke about obesity and his misogynist and racist comments from the past, he seemed to defend them. It's not clear what Trump supporters want from him, since he's been making comments like tonight's obesity joke since he appeared on a national stage, but it at some point, something has to give. How many times can one show distaste for fellow human beings and still purport to be all about America? That's just not how this country rolls.