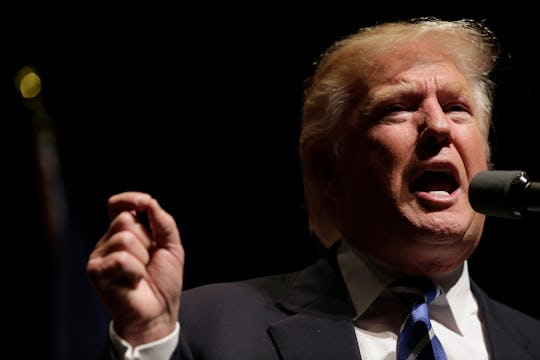 Joshua Lott/Getty Images News/Getty Images
Donald Trump's NFL Debate Debacle: What You Need To Know
On Friday, Republican presidential candidate Donald Trump shared his latest conspiracy theory on Twitter, accusing Hillary Clinton and the Democratic party of rigging upcoming debates so that they competed with NFL games. Since Trump's tweet, both the NFL and the Commission on Presidential Debates have responded to his claim, and many others have weighed in. So, what exactly is going on with Trump's NFL/debate debacle?
It began with Trump's tweet on Friday, alleging that the overlapping schedules of the NFL games and the presidential debates were purposely crafted by Clinton, seemingly as a way to lower viewership of the debates. On the same day, Trump also brought the issue up during an ABC interview on his upcoming debates against Clinton. "I'll tell you what I don't like. It's against two NFL games," Trump told ABC. "I got a letter from the NFL saying, 'This is ridiculous. Why are the debates against —,' because the NFL doesn't want to go against the debates." He added:
Hillary Clinton wants to be against the NFL. ... Maybe like she did with Bernie Sanders, where they were on Saturday nights when nobody's home. But they're against the NFL.
The National Football League was having none of that, however. According to CNN, an NFL spokesperson said on Saturday, "While we'd obviously wish the debate commission could find another night, we did not send a letter to Trump."
On Sunday, the Commission on Presidential Debates chose to fire back, as well. In a statement, the commission explained that scheduling for the debates began over 18 months ago in an attempt to plan around holidays and sporting events. "It is impossible to avoid all sporting events, and there have been nights on which debates and games occurred in most election cycles. A debate has never been rescheduled as a result," the statement read. "As a point of reference, in a four-year period, there are four general election debates (three presidential and one vice presidential), and approximately 1,000 NFL games."
A couple of other interesting things to note in this debate drama? First of all, the CPD — a nonpartisan commission — released its presidential debate schedule in September 2015, while the NFL released their 2016-2017 game schedule months later, in April 2016. Secondly, after the NFL said they did not send a letter to Trump, a Trump aide gave CNN a different version of Trump's original claim, saying, "Mr. Trump was made aware of the conflicting dates by a source close to the league." Finally, on her end, Clinton has avoided weighing in on Trump's claims, instead focusing her social media efforts on policy concerns.
Whether the debate scheduling drama means Trump will skip out of upcoming debates or not isn't clear yet — but clearly, organizations won't be letting the Republican candidate use them as an excuse for bowing out or rabble-rousing.