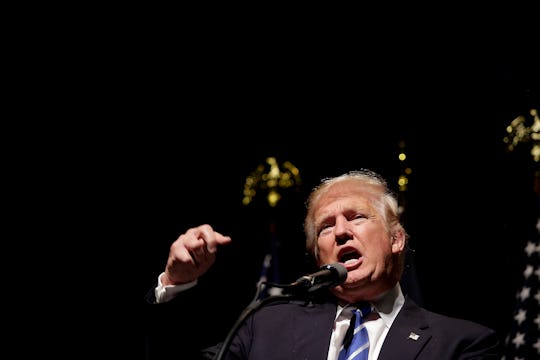 Joshua Lott/Getty Images News/Getty Images
Donald Trump's Reaction To Clinton's DNC Speech Was Suprising
I sort of can't believe I'm saying this, but here goes: I wasn't expecting much from Hillary Clinton's speech. Historically, the Democratic Presidential nominee is not known for her brilliant oration. Which is weird because I personally think the woman knows her stuff. And she can be funny too (check out her Twitter account every once in a while, she's gotten in a few high quality off-the-cuff quips in the last few months). But her speeches are usually (sorry Hil) a bit of a yawn fest. Not tonight. Tonight, Clinton brought her A game, and Donald Trump's reaction to Clinton's DNC speech was suspiciously silent, especially in light of all the verbal smack downs coming his way.
Update: In a series of tweets after the DNC had ended, Trump wrote, "Hillary's refusal to mention Radical Islam, as she pushes a 550% increase in refugees, is more proof that she is unfit to lead the country. Our way of life is under threat by Radical Islam and Hillary Clinton cannot even bring herself to say the words. Hillary will never reform Wall Street. She is owned by Wall Street! Hillary's vision is a borderless world where working people have no power, no jobs, no safety. Hillary's wars in the Middle East have unleashed destruction, terrorism and ISIS across the world. No one has worse judgement than Hillary Clinton - corruption and devastation follows her wherever she goes." No word on why it took Trump so long to respond (long for him, that is).
The Democratic National convention got off to a rough start earlier in the week, with a massive email hack of the DNC officials leaked to WikiLeaks, the Bernie or Bust movement digging in its heels to the end, and a general feeling of discord casting a pallor over the Wells Fargo Convention Center in Philadelphia. While Trump was excited to highlight the issues... he had to get in his digs quick. Because after four days of rousing speeches from the likes of FLOTUS Michelle Obama, former President (and prospective FHOTUS) Bill Clinton, and President Barrack Obama, the Democrats looked to finally be presenting a unified front. And what did Republican Presidential nominee Donald Trump think of this spirit of togetherness? Well, he might have mentioned that he wanted to "hit a few of those speakers so hard, their heads would spin."
Otherwise it's been all quiet on the Republican candidate's front. Could it be that the man was genuinely wounded by Clinton's choice jabs?
(FYI, I love how proud Clinton was of this one.)
And those were just a few. Generally speaking, Trump is pretty quick to take offence. But this time around? Total radio silence.
Let's take a moment here to sympathize with The Donald, guys. It's been a hard week for him trying to steal the spotlight back from the DNC, especially with Clinton playing her ultimate "woman card" and becoming the first woman in history to become the Presidential nominee. He was probably feeling lonely, hence his interesting invitation to the Russian government to commit a little national security breach by hacking into Clinton's email (no such thing as bad publicity, right?).
Trump has had a long week of trying to keep his name in the news, and if the ratings are to be believed... he's not getting far. The DNC has beaten the RNC from the previous week every single night in the ratings game, which is a game Trump is not a big fan of losing. As a last ditch attempt to get viewers back in his corner, Trump even went so far as to urge people not to watch Clinton's speech; his campaign sent out a fundraising email on Thursday morning that read in part;
Unless you want to be lied to, belittled, and attacked for your beliefs, don't watch Hillary's DNC speech tonight. Instead, help Donald Trump hold her accountable, call out her lies and fight back against her nasty attacks.
But here is what viewers would have actually missed if they didn't watch Clinton's speech, they would have missed Chelsea Clinton honoring her mother in the most beautiful, personal, exceptional way.
They would have missed the short film Hillary, created by Shonda Rhimes, that introduced the world to the private woman (narrated, as everything ever should be, by Morgan Freeman).
And they would have missed her speech. Her inclusive, passionate, thoughtful speech.
Clinton spoke of working together, spoke of her mother's lessons; "No one gets through life alone." Which sounded so different from Trump's "I, alone, can fix it."
On Tuesday night, I was so happy to see that my explainer-in-chief is still on the job. I'm also grateful to the rest of my family and to the friends of a lifetime. For all of you whose hard work brought us here tonight, and to those of you who joined this campaign this week: thank you. What a remarkable week it's been. We heard the man from "Hope," Bill Clinton, and the man of hope, Barack Obama. America is stronger because of President Obama's leadership and I'm better because of his friendship. We heard from our terrific Vice President, the one and only Joe Biden. He spoke from his big heart about our party's commitment to working people, as only he can do. And First Lady Michelle Obama reminded us that our children are watching and the president we elect is going to be their president, too.
I wish I had gone into tonight's speech with a little more faith in Clinton's oration abilities. Faith in the persistence of her courage, her work ethic, and her kindness.
Meanwhile, we wait for Trump to drop his 140-character Twitter bomb. I can't imagine what he'll say.