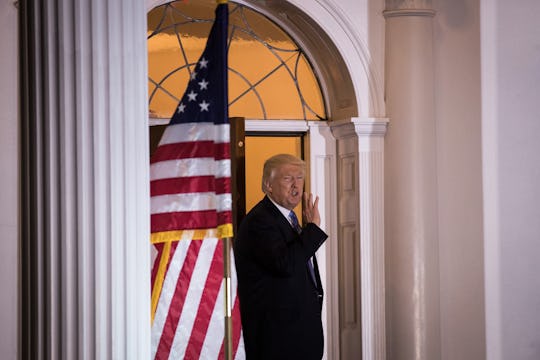 Drew Angerer/Getty Images News/Getty Images
Donald Trump's Response To Fidel Castro's Death Definitely Doesn't Mince Words
On Friday, November 26, just a day after many in the Western world celebrated American Thanksgiving, news broke that Fidel Castro died after years of declining health. On Saturday morning, hours after news of Castro's death had made airwaves, President-elect Donald Trump's response to Fidel Castro's death certainly didn't waste time on condolences. Trump tweeted that "Fidel Castro is dead!," and his message was certainly straightforward: Castro is dead. Though many definitely didn't expect the president-elect to wax poetic about Castro's Communist Revolution, many noted that his to-the-point tweet about Castro's death felt a little too "stiff" for the future Leader of the Free World. Of course, no one is asking Trump to celebrate Castro in the wake of his death, but his of-the-moment tweet felt more like a knee-jerk reaction to the news rather than a tact statement from the President of the United States.
The New York Times noted that news of Castro's death was announced by Cuban state television. At the time of his death, he was 90 years old. According to the New York Times, Castro had "provisionally ceded" power to his brother, Raúl, who's 85 years old, and had gone so far as to resign as president of the country. Interestingly enough, Raúl Castro announced plans to resign as president in 2018.
Throughout his entire campaign for the presidency of the United States, Trump famously flip-flopped on his position on Cuba, often giving interviewees conflicting views on how he felt about U.S. and Cuban relations, both to date and to come in the future. CNN notes that a CBS station interview airing in October showed Trump criticizing President Obama's effort to normalize our relationship with Cuba. In the interview, Trump said it was a "very weak agreement" with Cuba under the Obama administration, however, he did note that reaching a deal with the country after years of embargo was "fine." When asked by CBS4's Jim Defede on whether or not he'd break off diplomatic relations with Cuba on day one, Trump said:
I would do whatever you have to do to get a strong agreement. And people want an agreement, I like the idea of an agreement, but it has to be a real agreement. So if you call that for negotiation purposes, whatever you have to do to make a great deal for the people of Cuba. Look, Cuba has to treat us fairly and it has to treat the people of Cuba fairly, and the people living here that were from Cuba or their families were from Cuba.
He added the agreement signed by President Obama "is a very weak agreement. We get nothing. The people of Cuba get nothing, and I would do whatever is necessary to get a good agreement. An agreement is fine."
Though information will likely roll out in the days and weeks to come about where the U.S. will go from here, Trump's tweet may highlight how he'll approach his relationship with Cuba going forward: short, sweet, and to the point.